Jakarta
-
Seminal Belgian fashion designer, Raf Simons, caused a commotion last night (21/11) after announcing that after 27 years of operation, his namesake label would cease operations. His London debut, showing his SS23 collection, is also his final—or in his own words, "the conclusion of an extraordinary 27 year journey". Expectedly, fans of the brand are saddened to hear the news. Simons shared no reason as to why his eponymous label is closing, but some speculated the uncertainty of the fashion market or the need to focus more on his role at Prada may be behind it.
Simons started out as an interior designer, having studied Industrial Design and Furniture Design at LUCA School of Arts in Genk, Belgium. After graduation, Simons designed furniture at various galleries, as well as interned at the design studio of Walter Van Beirendonck. This proved to be life-changing, as Beirendonck took him to see Maison Martin Margiela's 1991 show which inspired Simons to become a fashion designer instead. His namesake label started in 1995, with heavy inspiration from youth culture that Simons resonated with. Over the years, his fascination with the youth would come to shape menswear and fashion itself, with decades-spanning influence that can be seen even more strongly today. Stints at Jil Sander, Dior, Calvin Klein, and now Prada, also proves the persistent relevance of his design approach.
With the news of the influential label's closing, we take a look back at five of its most iconic collections.
Autumn/Winter 2001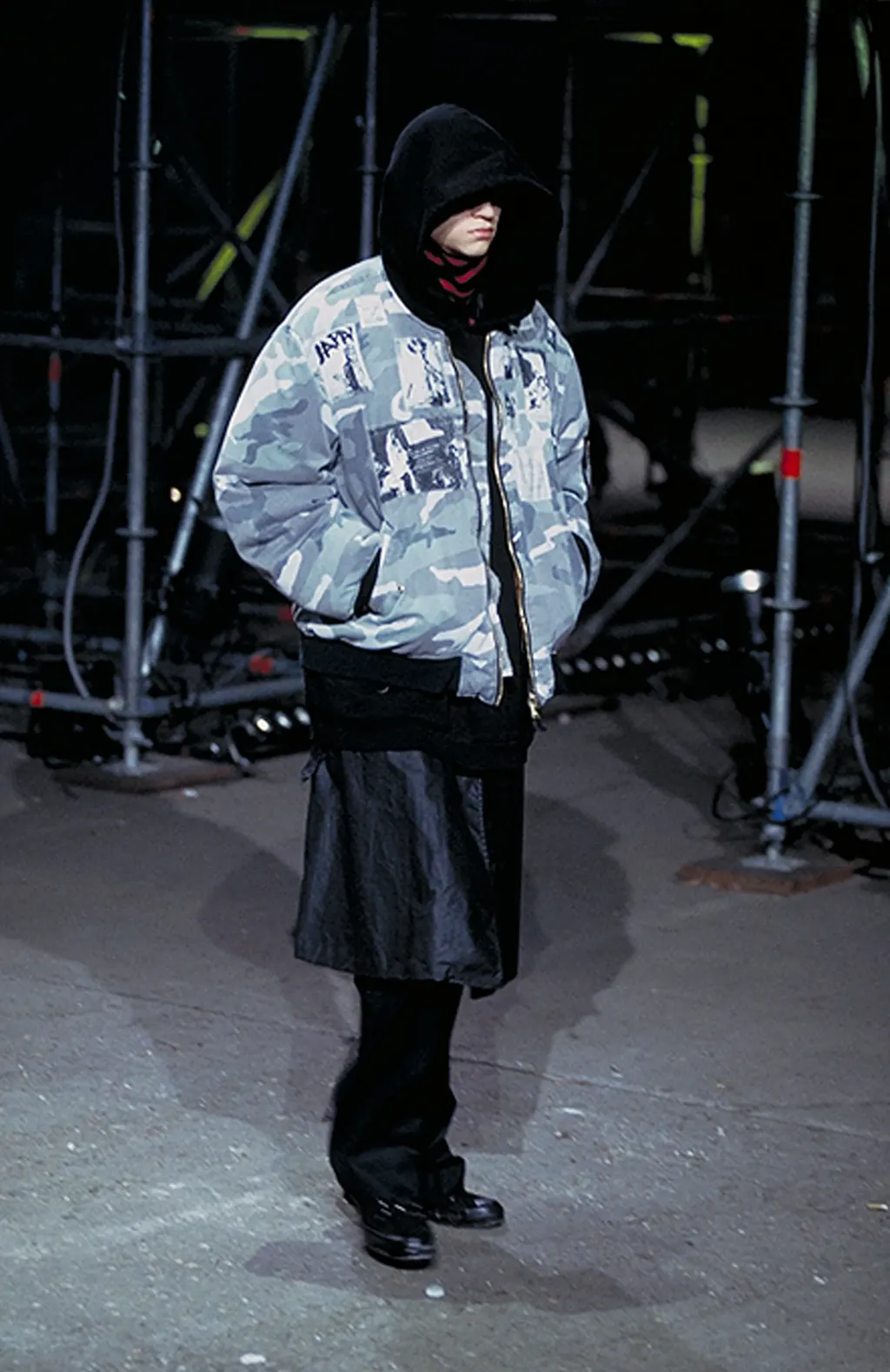 Raf Simons AW2001/ Foto: Vogue
The collection that needs no introduction. Dubbed "Riot, Riot, Riot", the collection's looks seem equally at home in dingy clubs or actual riots. The show took place at an abandoned warehouse, with the runway obscured by fog machines. As told to the Swiss paper Neue Zürcher Zeitung by Simons himself, the collection was inspired by haphazard stylings created by the youth out of necessity. "At the flea market in Vienna, I saw youngsters from the Ukraine or Romania, who simply lay layer by layer and thus create their own volumes because of the cold," he stated.
The pieces are voluminous and oversized, with items like bomber jackets, hooded sweatshirts, trench coats, and striped turtlenecks taking center stage. Another inspiration, the Welsh rock band Manic Street Preachers, is referenced directly in the clothes. A camo MA-1 bomber jacket adorned by photos of missing Manic Street Preachers guitarist Richey Edwards went on to become one of the most sought-after items for generations of menswear enthusiasts.
Autumn/Winter 2002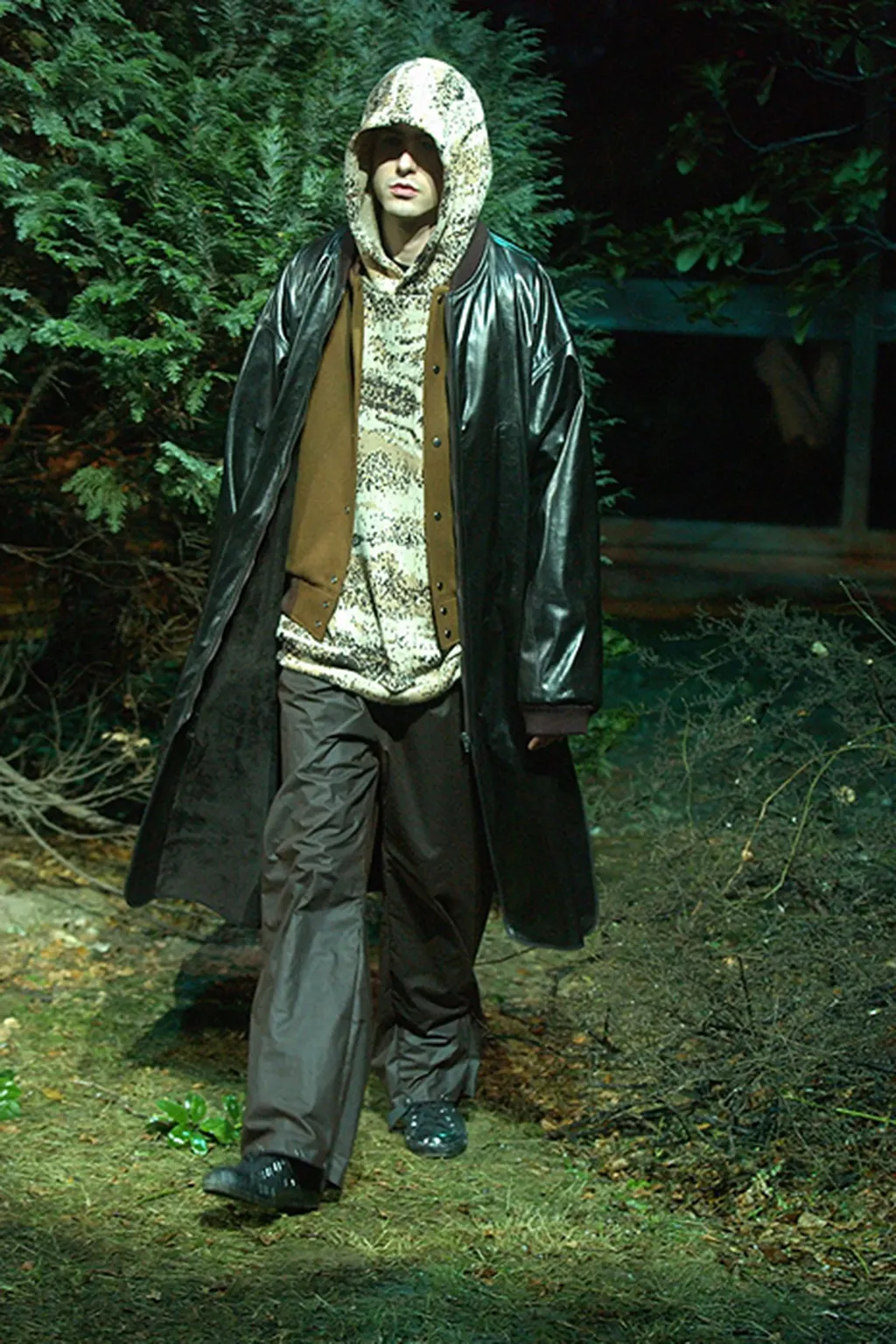 Raf Simons AW2002/ Foto: Vogue
Titled "Virginia Creeper", the name of the collection refers to a poisonous, deciduous North American vine. Expectedly inspired by humans' relationship with nature, pieces from the collection made use of natural and synthetic industrial materials, including nylon, artificial leather, and a type of plastic normally used for garbage bags.
The presentation took place within a woodland backdrop, which gave the show an eerie impression. Collegiate-inspired designs permeate the collection, with varsity jackets, collegiate sweatshirts, and what looks to be camp uniforms. A number of pieces are designed to rip and fray, providing a poignant juxtaposition between the natural and the synthetic.
Spring/Summer 2003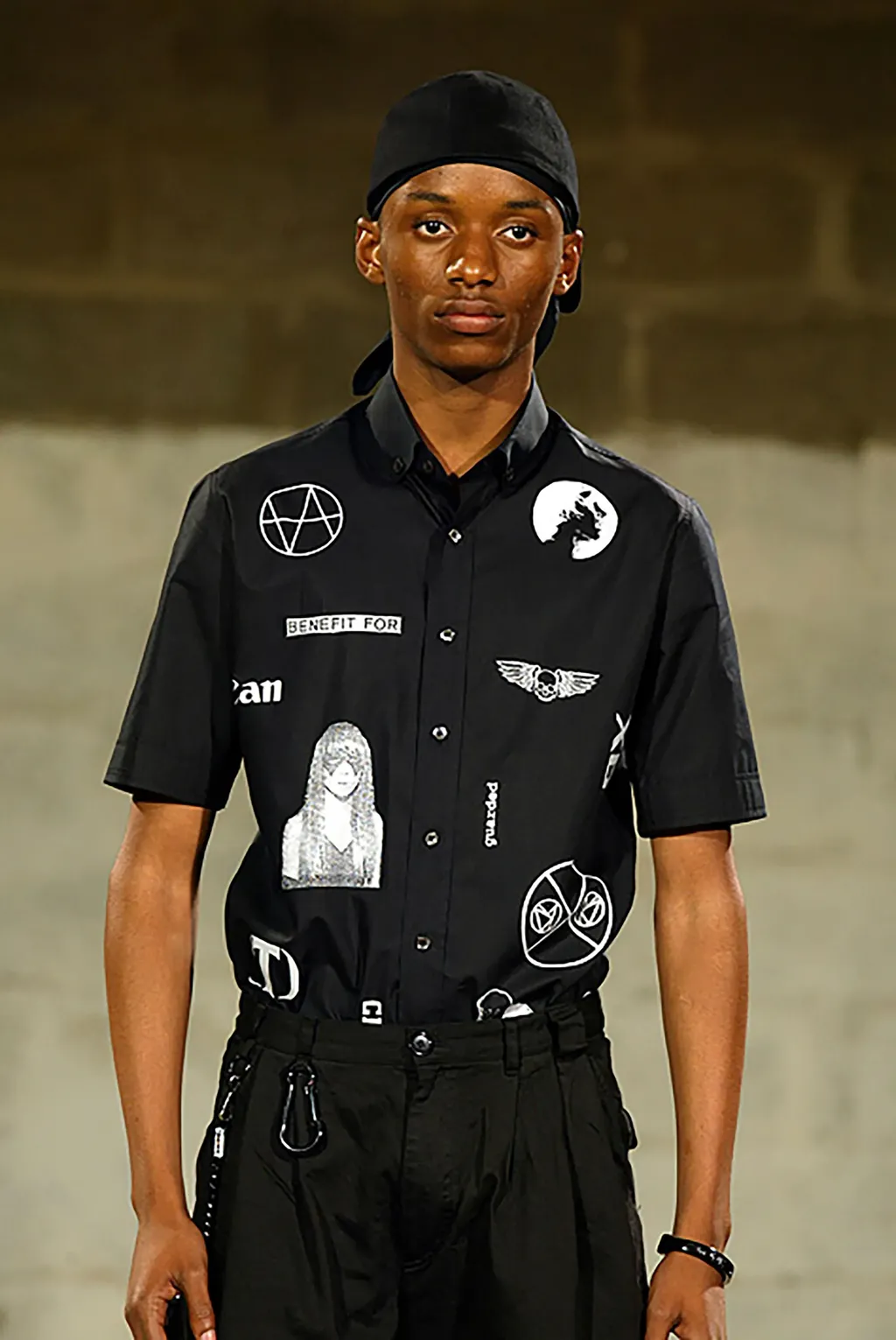 Raf Simons SS2003/ Foto: Vogue
A commentary from within the industry may seem more commonplace today in fashion, but Simons' "Consumed" collection stood out as a significant moment in fashion history. Rather than a critique, the collection presented Simons' subjective take on the issue of capitalism and consumerism. "Today's living environment is about consuming as well as being consumed; some suggest this could lead to an apocalyptic end, while others, particularly younger generations, take this reality as their cue to create new, more viable and flexible personas," the collection's show notes stated.
The color black dominates the whole collection, while corporate graphics are peppered in the pieces. Utilitarian and fetishistic at the same time, the abundance of straps, rings, and pockets serve open-ended functions for the wearers. Ironically, the aftermarket value for pieces from the collection today ranges in the high thousands of dollars. Prophetic.
Autumn/Winter 2003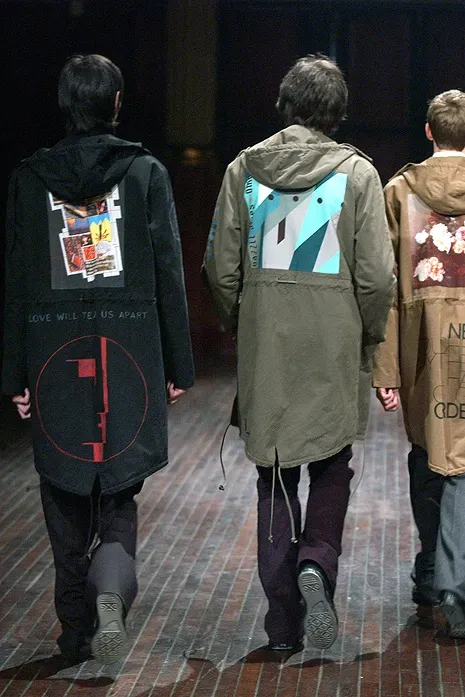 Raf Simons AW2003/ Foto: Vogue
Simons was on a roll this year. After "Consumed", Simons followed it up with perhaps his most iconic collaboration, "Closer" with Peter Saville. For the collection, Simons were given unrestricted access to Saville's complete graphic archives. While music has always played a part in Simons' designs, this collection presented a direct and extensive homage to the long history of Factory Records.
Graphic from Joy Division, New Order, and Orchestral Manoeuvres in the Dark are emblazoned on fishtail parkas, bomber jackets, and sweatshirts. The pieces look, for lack of a better term, absolutely amazing and timeless. Fortunately, the collection was not the last time Simons and Saville collaborated, as the two maintained a close working relationship even after a decade later.
Autumn/Winter 2005
Raf Simons AW2005/ Foto: Vogue
A tonal shift from the streetwear-leaning approach that permeates his past collections, "History of My World" presented a somber look into Simons' personal journey. The looks showcase Simons' reinterpretation of classic menswear silhouettes, with adventurous tailoring that play with volumes and cuts.
Baggy trousers, cropped jackets, and voluminous coats underlines the ominous sense of the collection. Militaristic influences can be found in the details—such as paddings, pocket placements, and cropped cuts—but the collection as a whole still manages to look futuristic. Simons' range as a designer was showcased in full view in "History of My World".
In the past, Simons has stated that the fashion industry's pressures are immense. He also stated that stepping into another field—like art—is something that he thought about but would not do while he's still in fashion. While he is still at the helm of Prada with his friend Miuccia Prada, it would be interesting to see Simons' creative vision in other mediums, perhaps some time in the future. Forward always.
(alm/tim)