Jakarta
-
What's fun in the K-pop industry is that there's always going to be something new and exciting introduced by the newcomers. In this case, it is HYBE LABEL-managed ADOR's only group who recently made their debut in August 2022, NewJeans. NewJeans has taken the world by storm with their youthful concepts, high-quality Y2K fashion, easy-listening music, and mesmerizing personas of its members. Yet, 2022 is merely the beginning for them.
NewJeans-who recently released a new single "OMG"—is a fresh breath of air within the buzzing world of K-pop. Their popularity grew exceptionally, it's only normal that multiple international brands, including French luxury houses had their eyes set on them. Not a year since the group had launched their career in the K-pop scene, their Vietnamese-Korean member Hanni became the first member who had been appointed as a brand ambassador for a high-end fashion brand, Gucci.
Following Hanni's footsteps, maknae Hyein took over the headlines as she was named Louis Vuitton's newest ambassador right before the start of 2023. The news was delivered through an Instagram post by NewJeans, showing a full-body portrait of Hyein who glams up in Louis Vuitton from head to toe, followed by the announcement on its caption. "We will start a new journey with Hyein who defines NewJeans' style with her unique charms." Louis Vuitton also stated. Lee Hyein, at the age of 14 years old, became the youngest ambassador Louis Vuitton had ever appointed.
As this article was written, her fellow member Danielle was crowned as Burberry's newest global ambassador. The announcement came similarly as Hyein's with new photos of Danielle looking posh in a Burberry shirt, posing with Burberry's Francis Bag which has been garnering great attention since its release last year. Combining the total with Hanni, three out of five NewJeans members are now tied to an ambassadorship. It's about time the two shall follow—oldest member Minji is rumored to be Chanel's Ambassador and Dior is meant for Haerin. This may indicate how powerful and influential the emerging South Korean girl group is.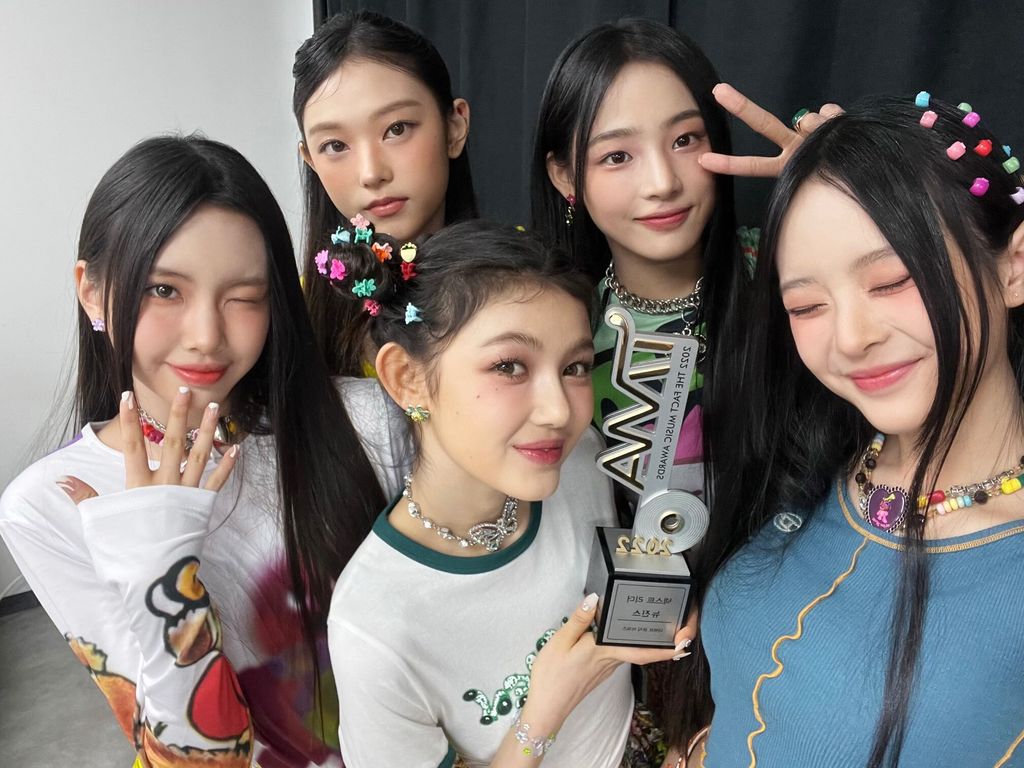 NewJeans/ Foto: Twitter: @NewJeans_ADOR
Celebrities indeed are valuable to brands especially in the luxury fashion industry. Hollywood icons have been the face of these luxury brands, featuring in prints and billboard campaigns worldwide. But today, brands are turning to multifaceted, digital savvy K-pop stars who (also) embodied this generation's pop culture. According to Vogue Business, the appointment of K-pop idols as ambassadors allows the brand to appear in a multitude of advertising channels—K-pop singers won't just wear brands on the red carpet but also in music videos, doing TV shows appearance, filming K-drama, dancing, and modeling.
Moreover, K-pop idols are considered to be all-round entertainers who are able to reach audiences in many countries on different platforms, hence a powerful marketing tool. Brands can develop strong connections with customers through their ambassadors with the high-level recognition factor and massive fanbase, say, BTS or NewJeans, in this case.
Statistic-wise, Louis Vuitton's best-performing post on its social channels for Men's Fashion Week in Paris for AW21 featured BTS, their house ambassador at the time, generated US $436,000 in media impact value, per Launchmetrics. Another example, BLACKPINK's Lisa gathered $1.37 million in media impact value for Celine, more than the house's own channels.
NewJeans, a powerful rookie of K-pop's fourth generation recorded sales of 300,000 and 310,000 copies for their debut EP, New Jeans, setting a new record in K-pop history. Given the record sales, NewJeans—despite their recent of debut—carries an influence with tremendous growth. It is only understandable why luxury brands are scrambling to sign these idols as they hugely influence the next generation of luxury buyers. Congratulations to Hanni, Hyein, and Danielle!
(HAI/alm)