Jakarta
-
Back in 2005, when I was still in elementary school, my favorite shoes were Crocs. I had five pairs of Crocs in different designs and bold colors from shocking pink, blue, and green. I remember that I can wear it for any occasion; to play in the park with my friends, go to the mall with my family, travel to Hong Kong   well, perhaps I always wear it on every occasion. Growing up, I lost interest in the pair and found out they actually look goofy. I think many people also fell out of love with these popular shoes eventually.
Founded in 2002, Crocs were originally made for water activities like boating due to their water-resistant nature, easy to slide on, and made to encourage comfort. Its patented material, 'Croslite', is lightweight and designed to spread the impact across the foot and not absorb water or sweat, making it bacteria resistant as well. With this feature, it's logical to see why crocs are the shoes to go for nurses or chefs.
Just like any other brand, crocs had its prime era. Celebrities are seen wearing the piece and becoming Crocs enthusiasts, like Rosie O'Donnell and Jared Leto. As quickly as they rose, they began to decline in 2008. The brand was at the forefront of bankruptcy, where its once valued stock was at USD 75 a share and falling to less than USD 1. But since the pandemic hit, people began to be seen with Crocs once again! It got the attention of giving away more than 910.000 pairs of Crocs to front-line healthcare workers.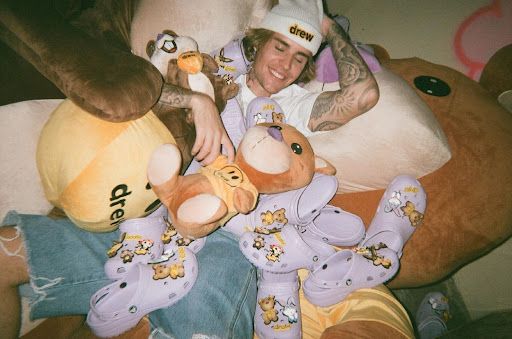 Kolaborasi Crocs dengan Justin Bieber/ Foto: Instagram
From this, sensational collaborations started to appear from USD 70 lavender Crocs adorned with chipmunk and teddy bear charms   as a result of Justin Bieber collab   to USD 850 platformed clog partnered with Balenciaga   and they all quickly sold out within hours. Apart from celebrities and fashion lines, Crocs also partnered with KFC by releasing a USD 60 fried chicken print shoe with drumstick Jibbitz charms for people to pluck into the holes.
Some argue that Crocs' resurgence may have something to do with nostalgia, just like mom jeans, which now are in a high demand again. And with this revival, they have strengthened their board and simplified what they stand for    the classic clog. But that doesn't mean it'd stop them from gaining relevance by doing massive collaborations that turn people's interest in the brand.
Crocs/ Foto: Instagram
Some people loved them, other's fell for them again, and the rest still think they would rather die than wear them. Either way, it is what they are known for, and they have leaned into it.
(HAI/MEL)