Jakarta
-
In a rare turn of events, this year's Met Gala has the men dressing to the nines—even better than the women in some instances. With the theme of "Karl Lagerfeld: A Line of Beauty", the event's exhibition focuses on the late designer's body of work, from Balmain, Patou, Chloé, Chanel, Fendi, to his own eponymous label.
In addition to being a fundraiser for The Met's Costume Institute, "fashion's biggest night" also provides an exciting look to how the guests interpreted each year's theme. With an assortment of A-list musicians, actors, athletes, and other cultural movers and shakers, here are the most exciting looks from the men of the 2023 Met Gala.
Conan Gray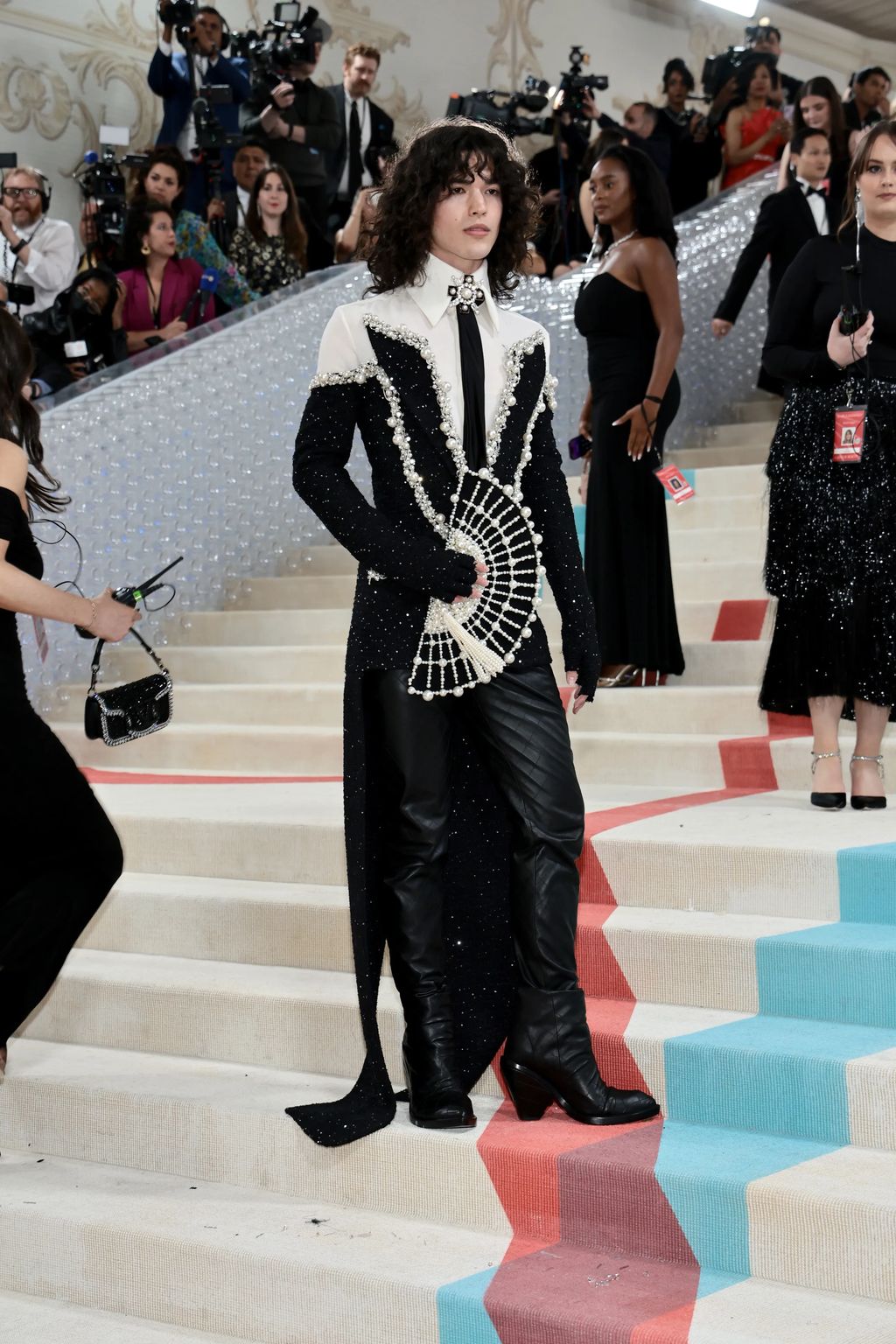 Conan Gray in the 2023 Met Gala/ Foto: Getty Images
With the dress code of the 2023 Met Gala being "In Honor of Karl", the looks are bound to be dominated by black and white. The iconic color scheme is displayed exquisitely by singer-songwriter Conan Gray, who wore a Balmain ensemble consisting of a high-collared white shirt and floor-length jacket with sequined sleeves. The outfit prominently features pearl detailing, which appears in his tie, V-shaped collar and opening, even down to his handheld fan.
Brian Tyree Henry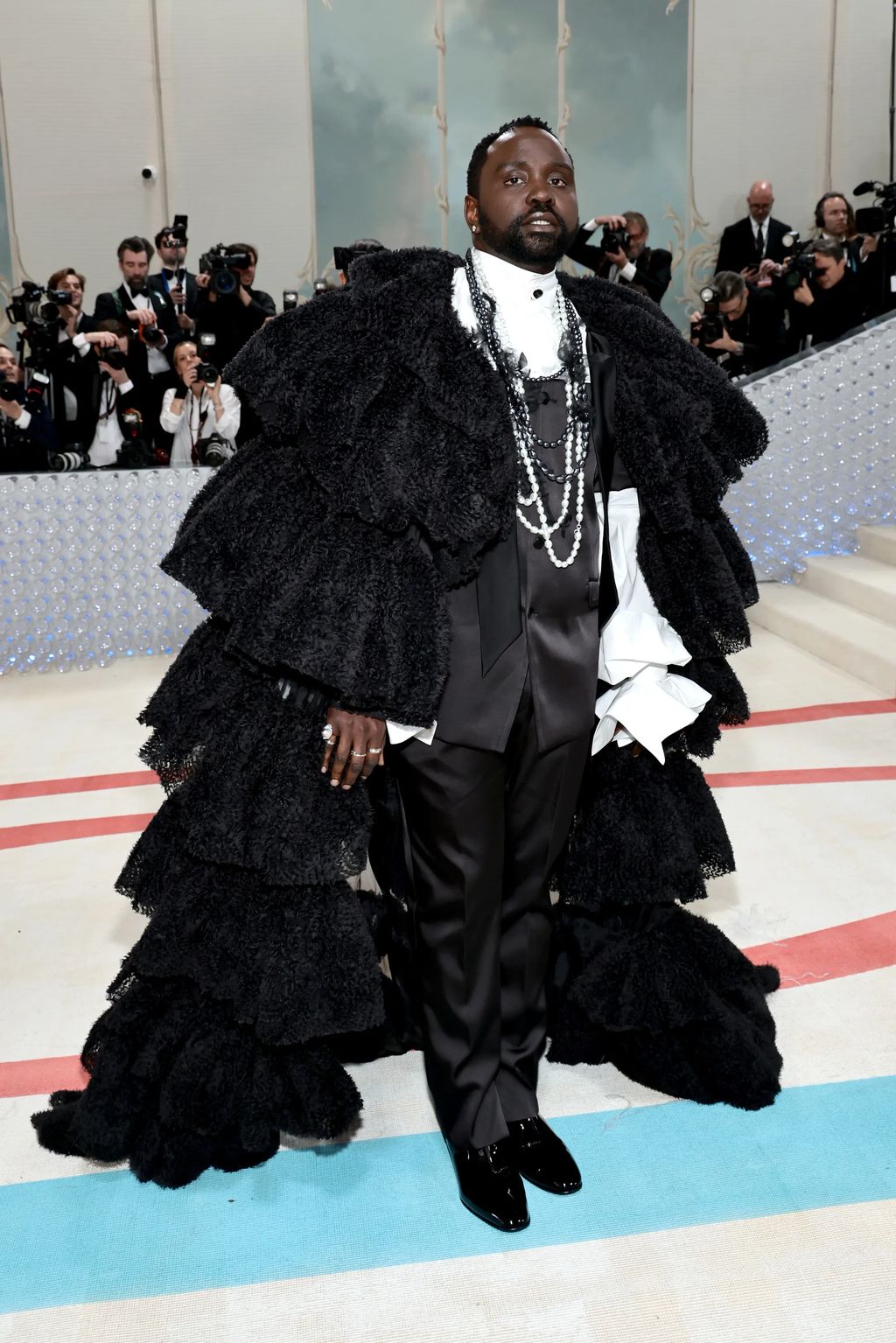 Brian Tyree Henry in the 2023 Met Gala/ Foto: Getty Images
Actor Brian Tyree Henry appeared in a regal fashion with an ensemble from Karl Lagerfeld's eponymous label. With a white stand-collar shirt underneath an array of necklaces and a combo of black jacket and trousers, what ties the look is Henry's textured floor-length cape. Adding to the layered look is the tiered sleeve, peeking from beneath the cape.
Bad Bunny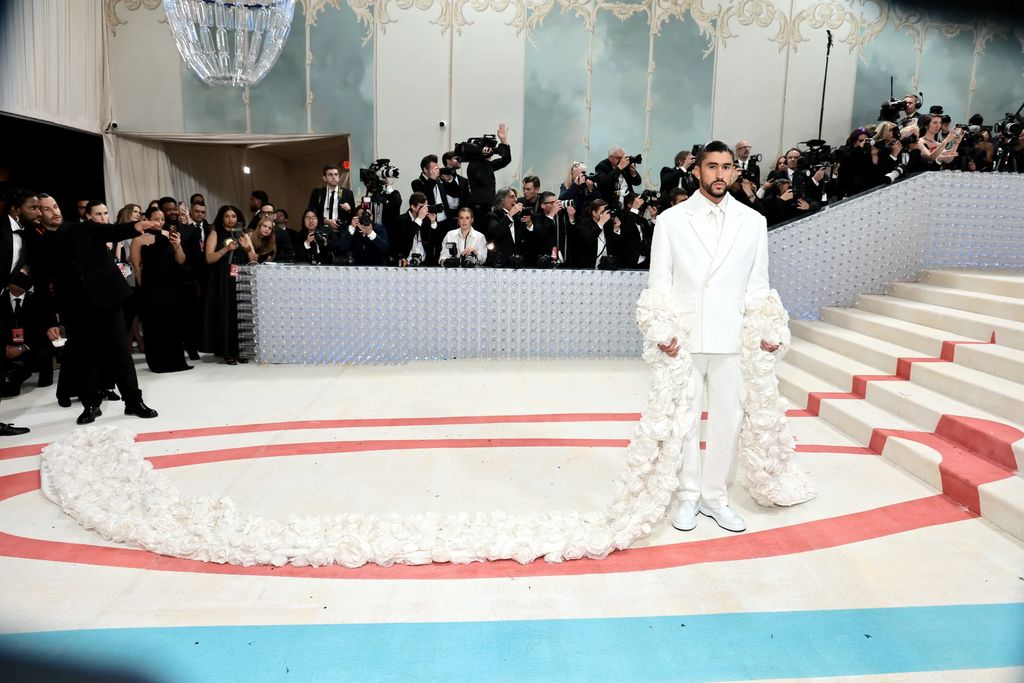 Bad Bunny in the 2023 Met Gala/ Foto: Getty Images
At once subtle and extravagant, Bad Bunny's all-white outfit managed to keep things classic from an angle while also being dramatic from another. The musician wears a custom Jacquemus backless suit with a 26-feet flower train following just behind him. A subtle detail many may have missed is that underneath his suit, he also wears a pendant of the letter J on his back, possibly a nod to a look in Lagerfeld's Chanel Spring 2005 collection and campaign.
Sean "Diddy" Combs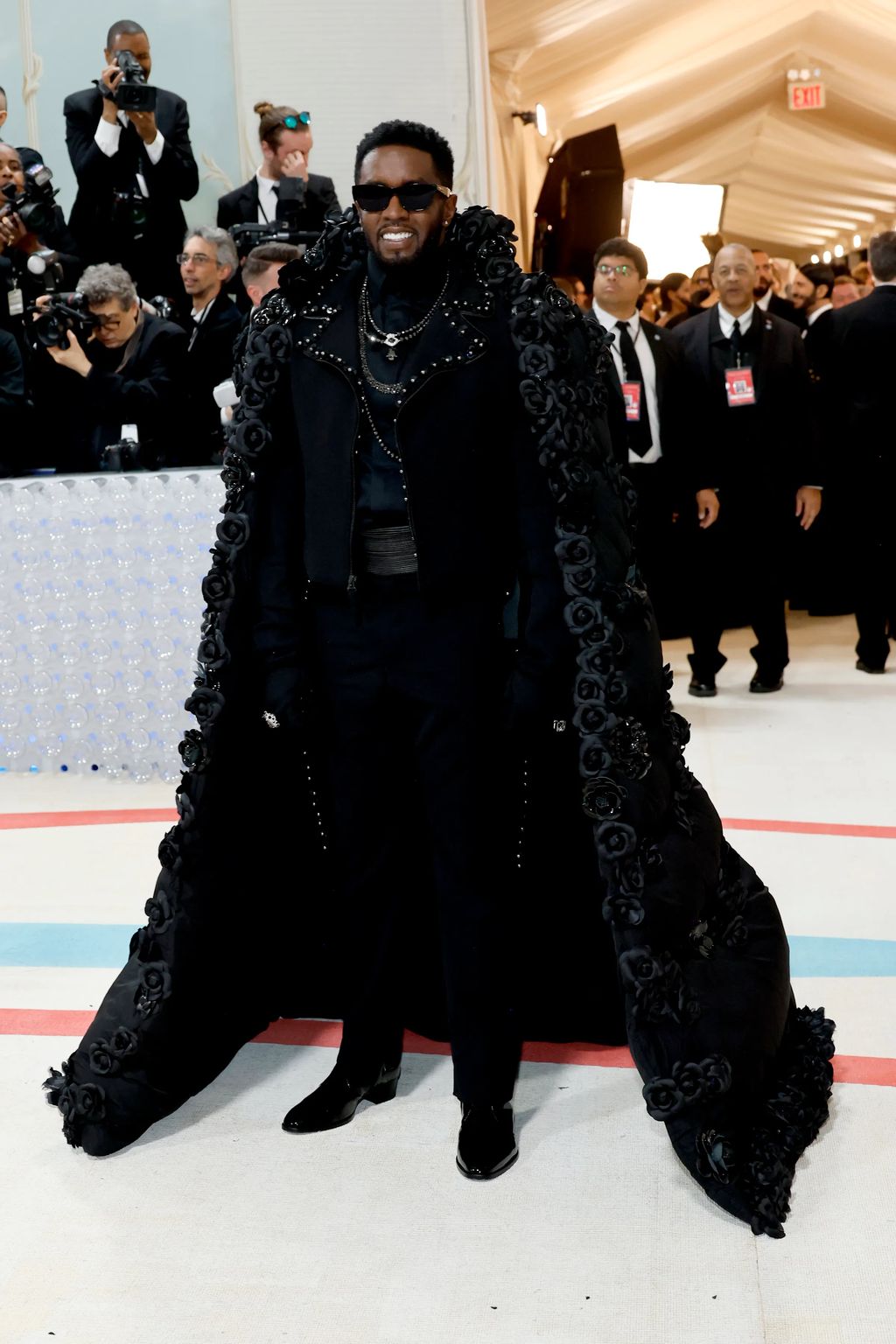 Sean Combs in the 2023 Met Gala/ Foto: Getty Images
Another regal floor-length look, Sean "Diddy" Combs appeared sporting a look from his own label, Sean John. The all-black look features a Swarovski-encrusted jacket and trousers topped with a camellia flowers-embellished coat. The subtler details include 600 Swarovski crystals and black pearls, referencing Lagerfeld's penchant for the materials.
Taika Waititi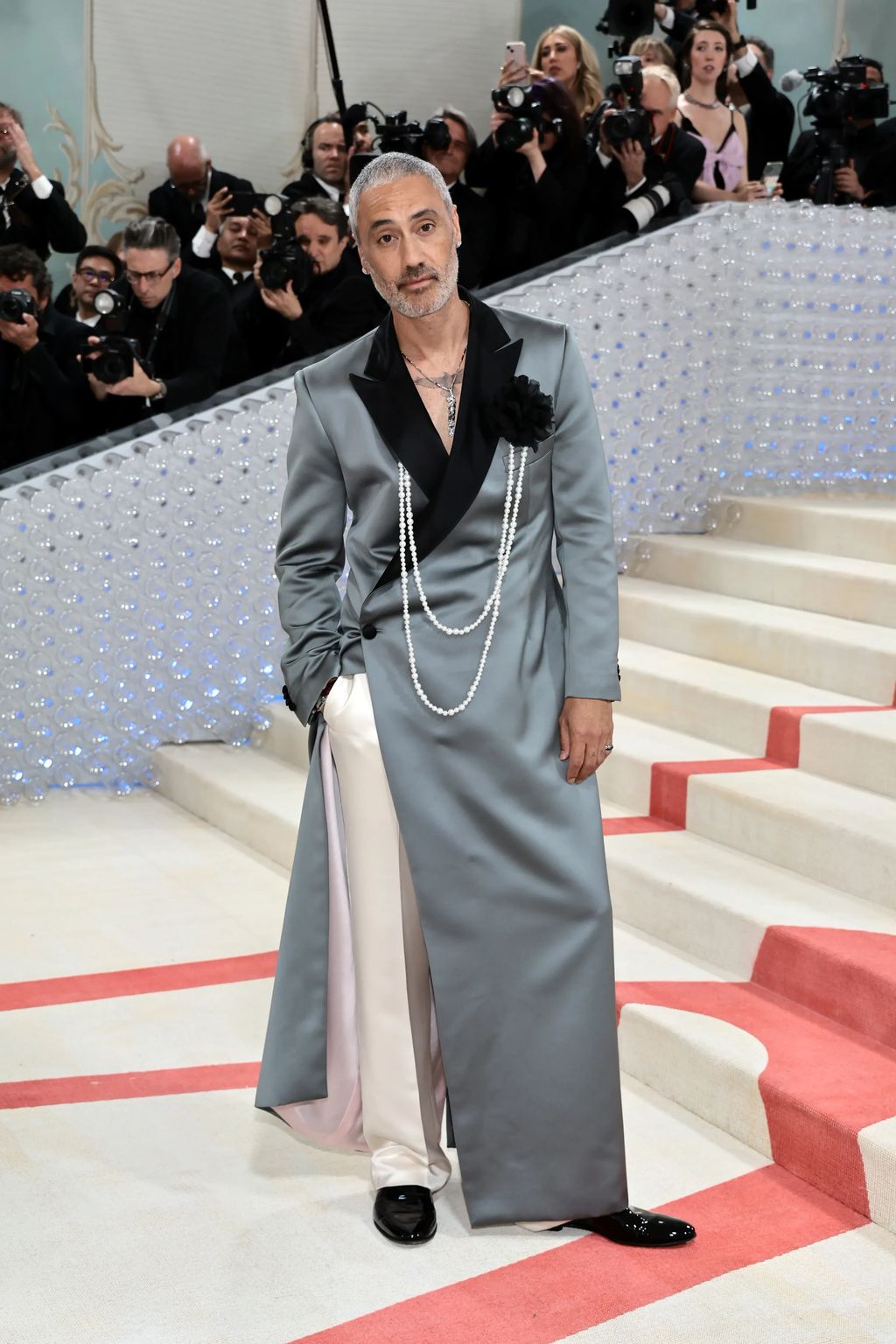 Taika Waititi in the 2023 Met Gala/ Foto: Getty Images
Moving away from the monochromatic black and white looks, director Taika Waititi appeared in a Prabal Gurung ensemble of black-collared gunmetal gray long jacket with pearl-colored trousers underneath. The director accessorized with a silver necklace, two strings of pearls under his jacket collar, and a black flower corsage. The masterful color coordination is also elevated by his silver hair, making the look seem effortless but completely in character for him.
Olivier Rousteing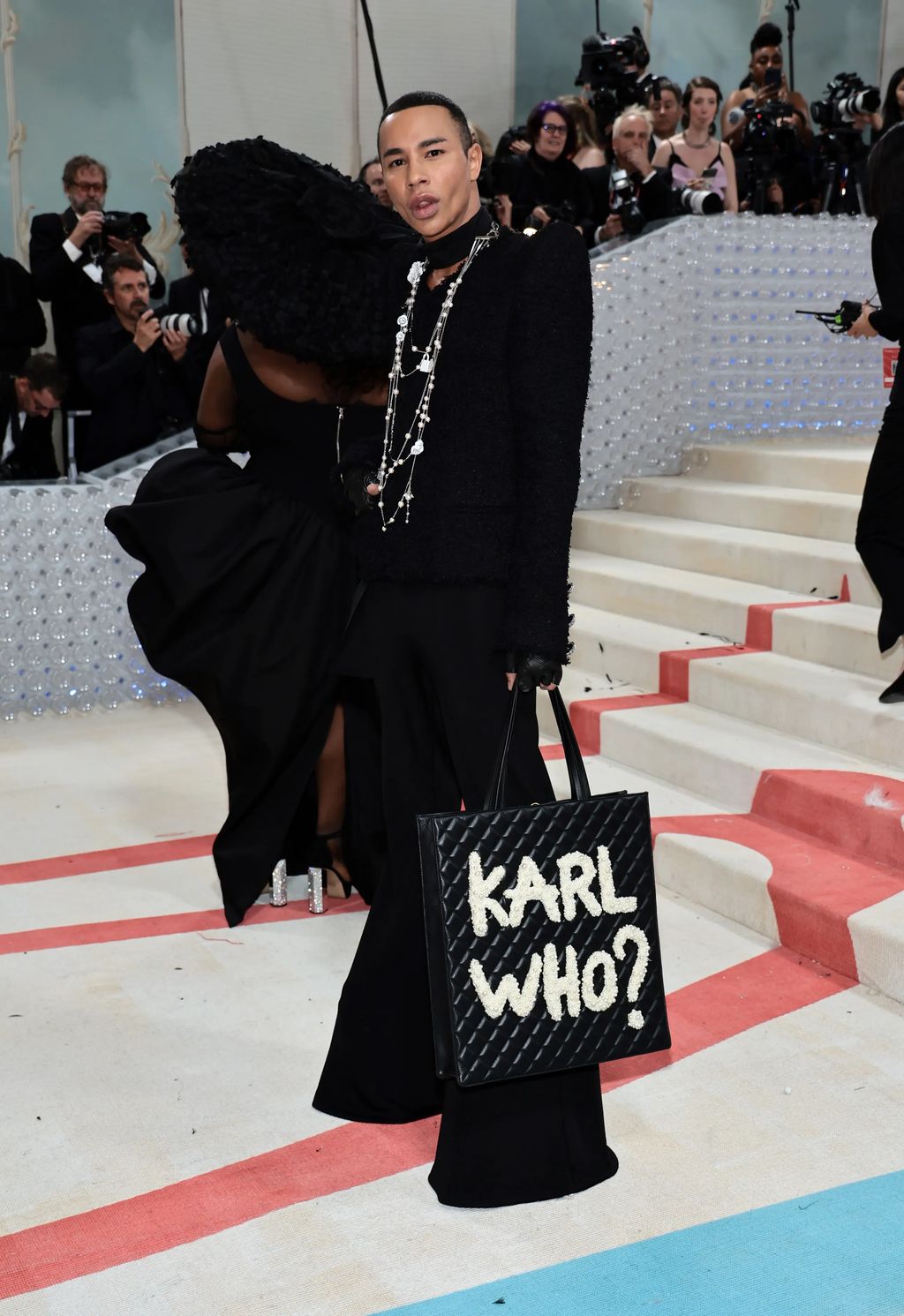 Olivier Rousteing in the 2023 Met Gala/ Foto: Getty Images
As the creative director of Balmain where Lagerfeld worked at, Rousteing paid tribute directly and in an if-you-know-you-know manner for the night. In addition to orchestrating some of the night's most notable looks (read: Conan Gray and Jeremy Pope), he himself appeared elegantly in a manner that Lagerfeld would approve of. In an ensemble that consisted of a textured black jacket, black choker, layered silver chains with pearls, black leather gloves, and flared black trousers, what steals the show is the bag he was seen carrying; a leather tote with the words "KARL WHO?" on it. The bag, of course, referenced Lagerfeld's Naco Paris bag of yesteryears, albeit with a bit more glamor and luxury.
(alm/alm)