Jakarta
-
Honoring the late fashion designer Karl Lagerfeld who has left his touch at some of the most notable fashion houses such as Balmain, Chloé, Fendi, and Chanel, this year's Met Gala is celebrated with the theme, "Karl Lagerfeld: A Line of Beauty". Very much Lagerfeld-coded with black and white attire as well as camellia flowers dominating the red-carpet, here are ten best-dressed women attending the Met Gala 2023.
Gisele Bundchen in vintage Chanel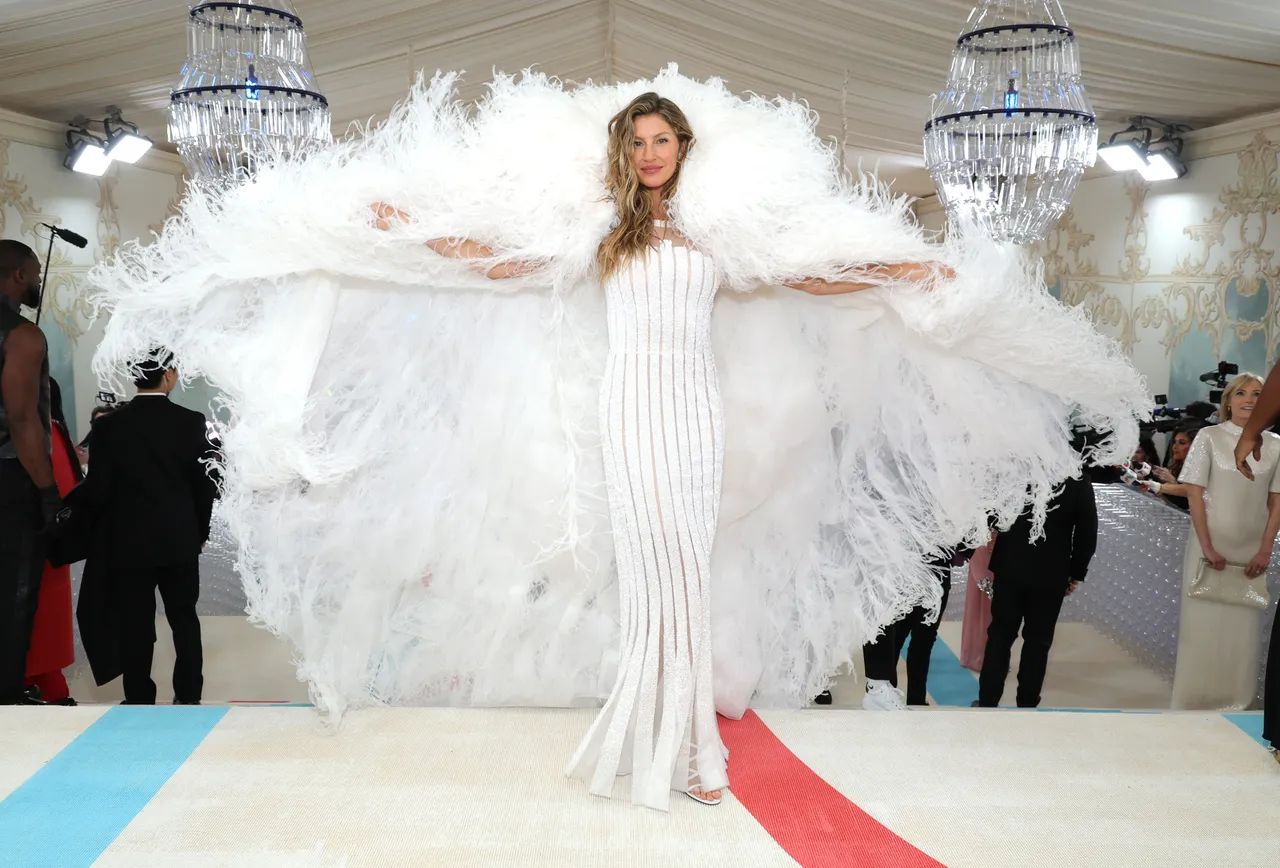 Gisele Bundchen in the 2023 Met Gala/ Foto: Getty Images
The Brazilian supermodel sports a bridal white silk tulle dress embroidered with vertical stripes of sequins from Karl Lagerfeld's Spring 2007 Chanel couture show. The additional feathered cape is the icing on top, making her look like Jadis the White Witch from Narnia.
Anne Hathaway in Atelier Versace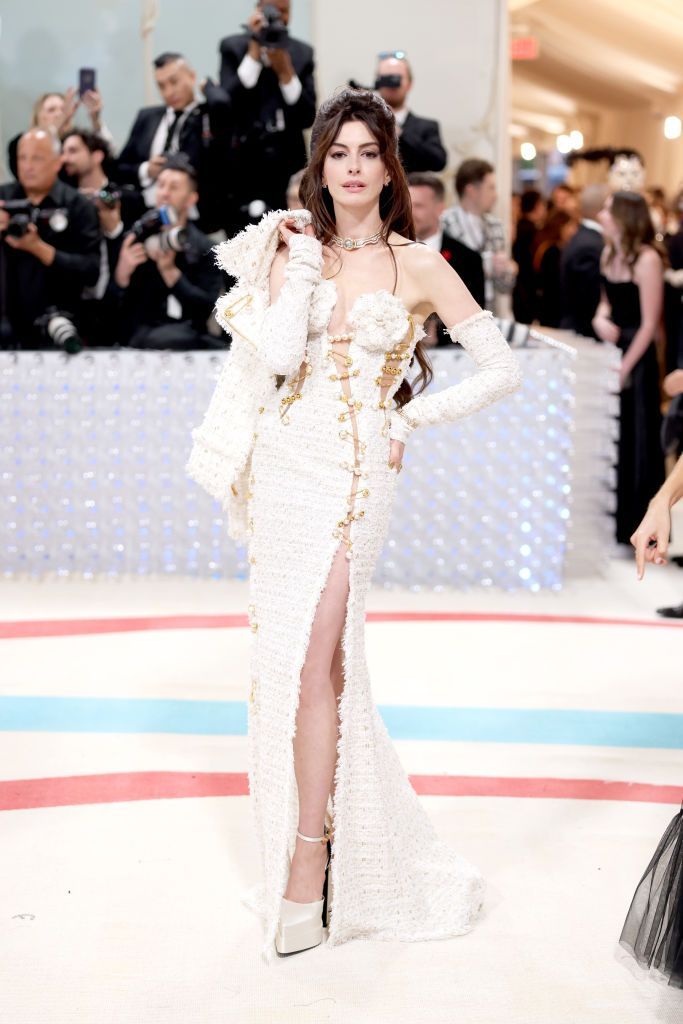 Anne Hathaway in the 2023 Met Gala/ Foto: Getty Images: John Shearer
The Devil Wears Prada star looked mesmerizing in a strapless safety pin dress by Versace, designed à la Lagerfeld with white tweed, pearl accents, and camellia flower details. The actress stated that her dress was meant to be a marriage between Versace and Chanel. The leg slit, the voluminous half up-do, and the Bulgari jewels—we have to mention all the details that made all eyes are set on her tonight.
Maya Hawke in Prada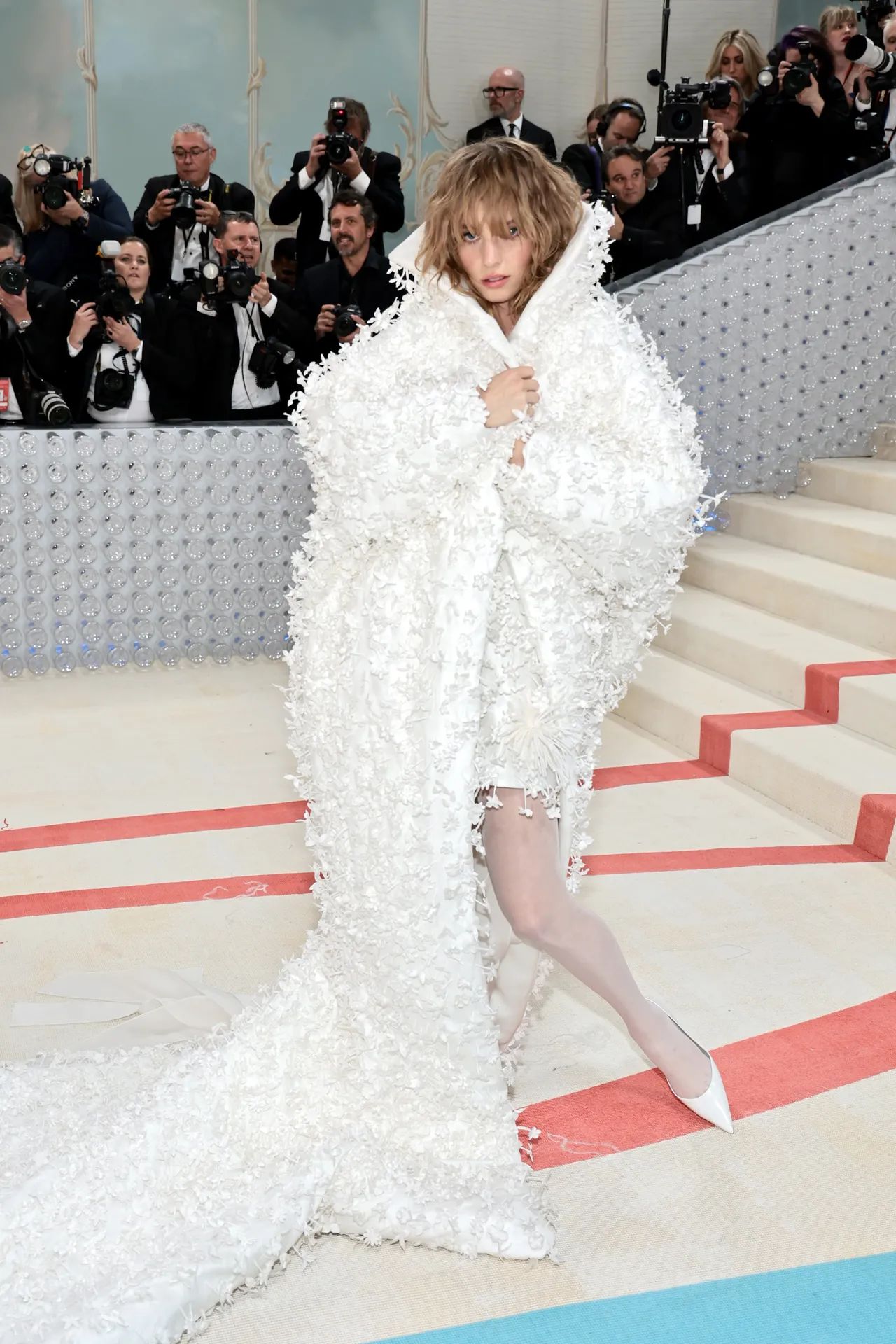 Maya Hawke in the 2023 Met Gala/ Foto: Getty Images: Jamie McCarthy
Maya Hawke enters the Met Gala with a mini dress adorned with exquisite details of 3D flowers-looking-like-snowflakes complete with matching ivory cape. She finishes the look with white stockings and sleek pointed-toe kitten heels.
Halle Bailey in Gucci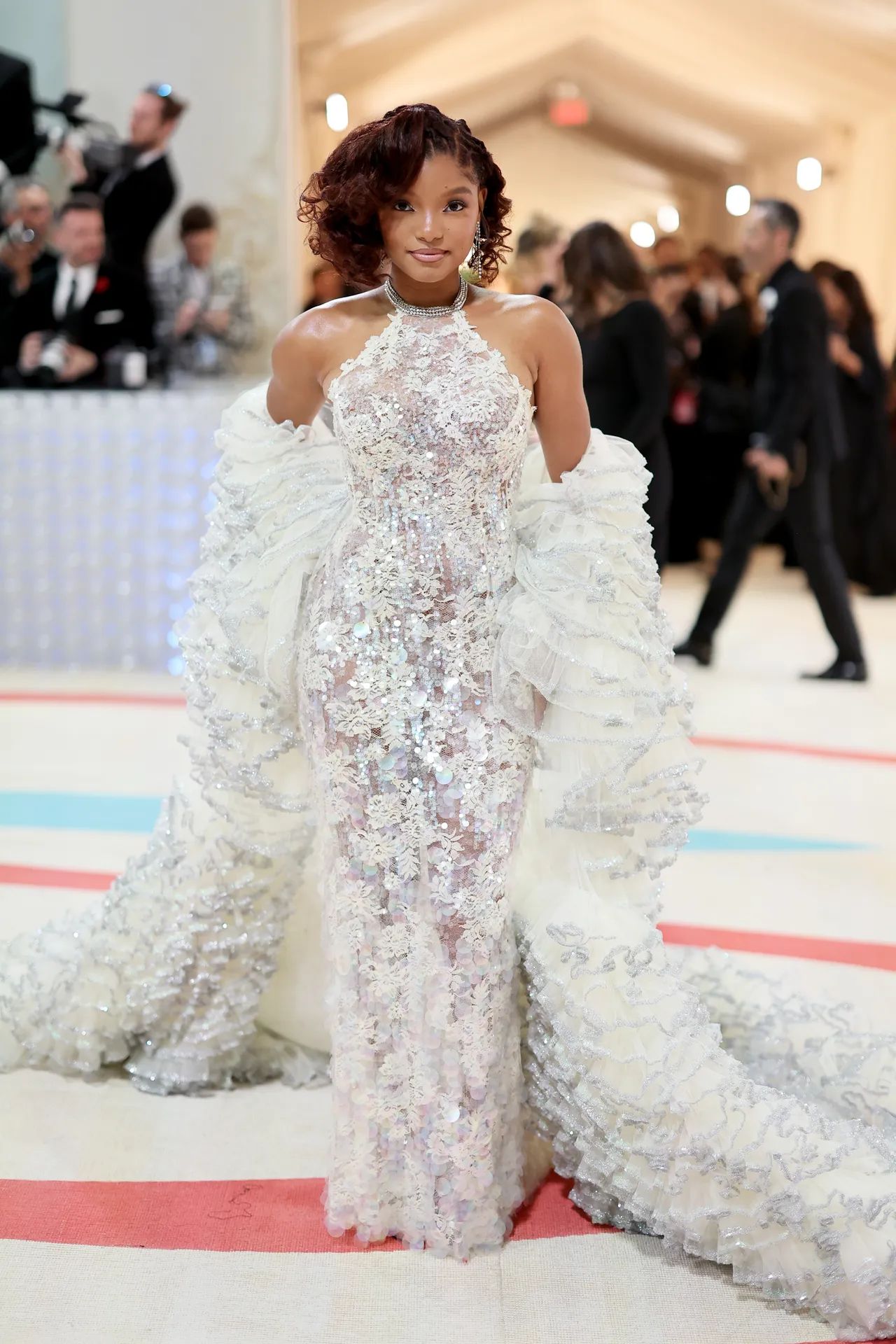 Halle Bailey in the 2023 Met Gala/ Foto: Getty Images: Mike Coppola
The Little Mermaid actress and singer joins the list of Met's best dressed tonight with sheer Gucci lace dress paired with dramatic ruffled coat, channeling her inner Ariel.
Michelle Yeoh in Karl Lagerfeld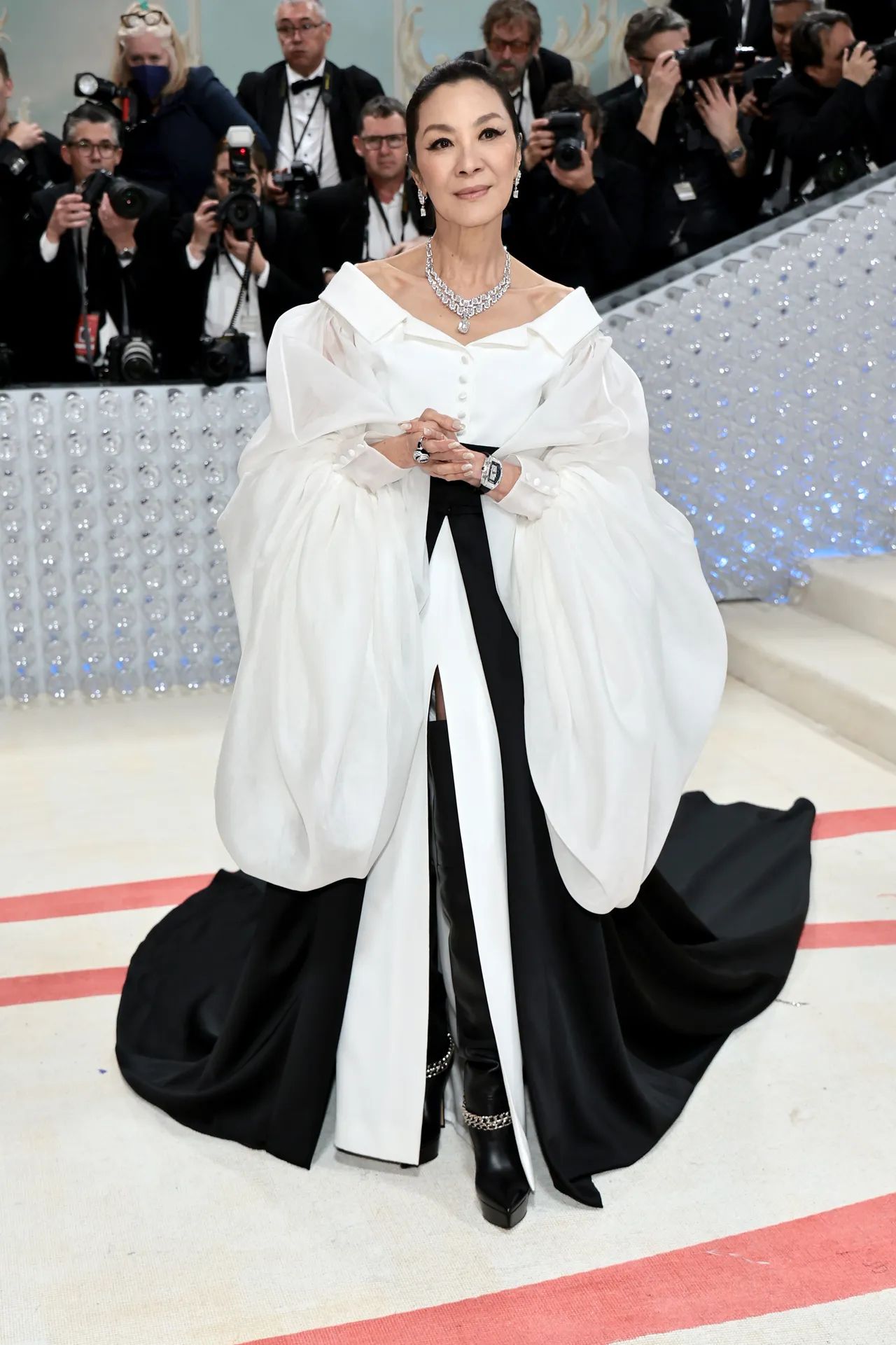 Michelle Yeoh in the 2023 Met Gala/ Foto: Getty Images: Jamie McCarthy
The Academy Award-winning Everything Everywhere All At Once star strutted the 2023 Met Gala carpet with a tuxedo-style ball gown. Her modest-elegant look contains intricate details including the underlayer garments which featured a button-up silhouette, portrait collared neckline, and billowy organza sleeves. The actress paired the look with platform leather boots.
Michaela Coel in Schiaparelli
Michaela Coel in the 2023 Met Gala/ Foto: Getty Images: Noam Galai
The Ghanaian-British screenwriter/actress and Met Gala co-chair dazzles in Schiaparelli's brown beaded gown that almost looks like a second skin. Over 130,000 crystals and 26,000 mixed stones were put into the gown that made her look like she's dripped in gold.
Anok Yai in Prabal Gurung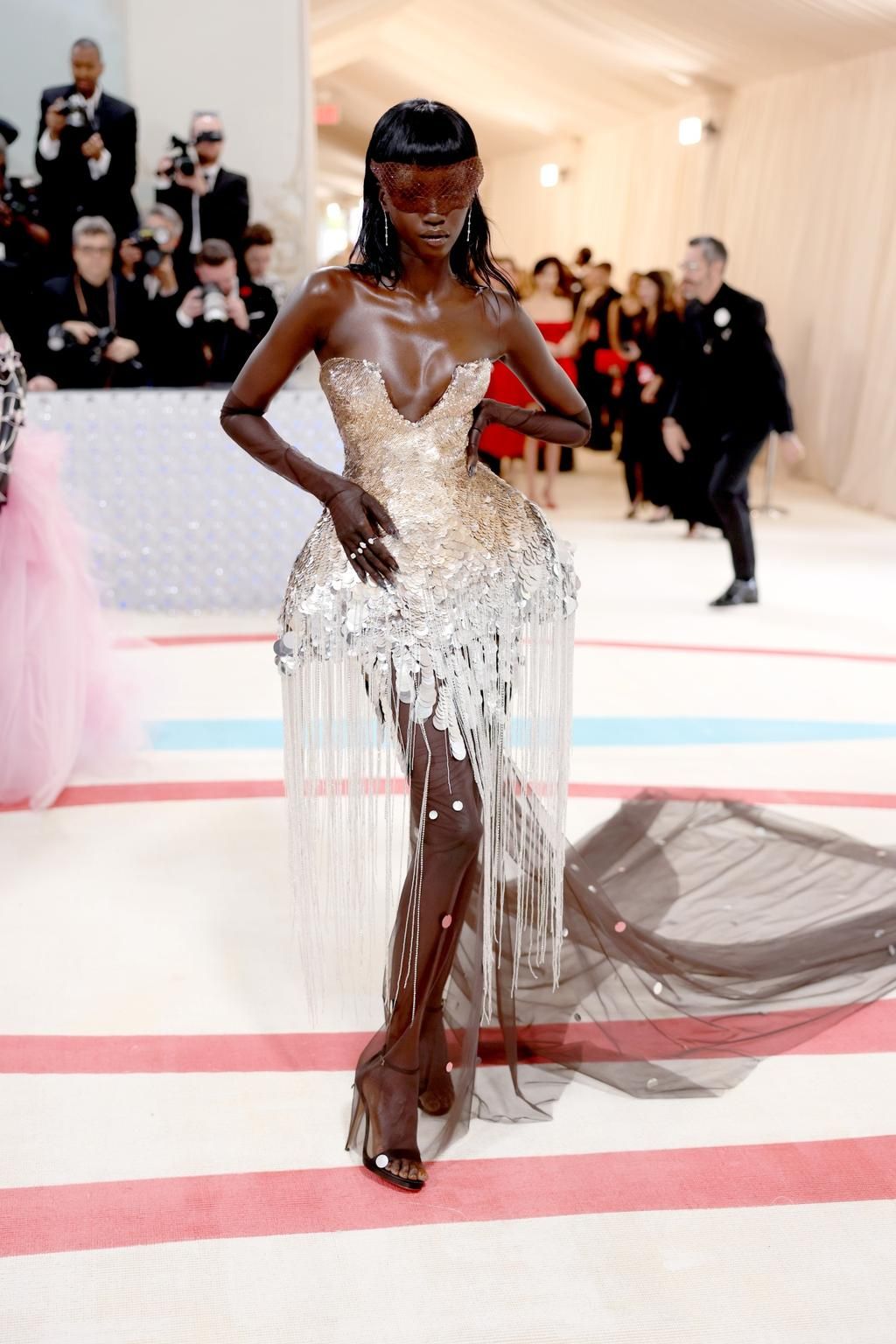 Anok Yai in the 2023 Met Gala/ Foto: Vogue
Supermodel Anok Yai is turning heads with her remarkable outfit. The 25 years old American-South Sudanese model hit the Met Gala red carpet in a mini sequin dress with structured details on the waist. The dress starts with small gold sequins as it transitions to wide silver sequins to the bottom embellished with dripping fringe. Anok Yai completed the look with a sheer gray-brown mask seemingly made from train tulle.
Ava Max in Christian Siriano
Ava Max in the 2023 Met Gala/ Foto: E! Online
Pop star Ava Max struts the Met red-carpet with a white flowy gown embellished with crystals all over the top. She pairs the look with a matching headpiece. Straight out of a Victorian wedding, we would say!
Jenna Ortega in Thom Browne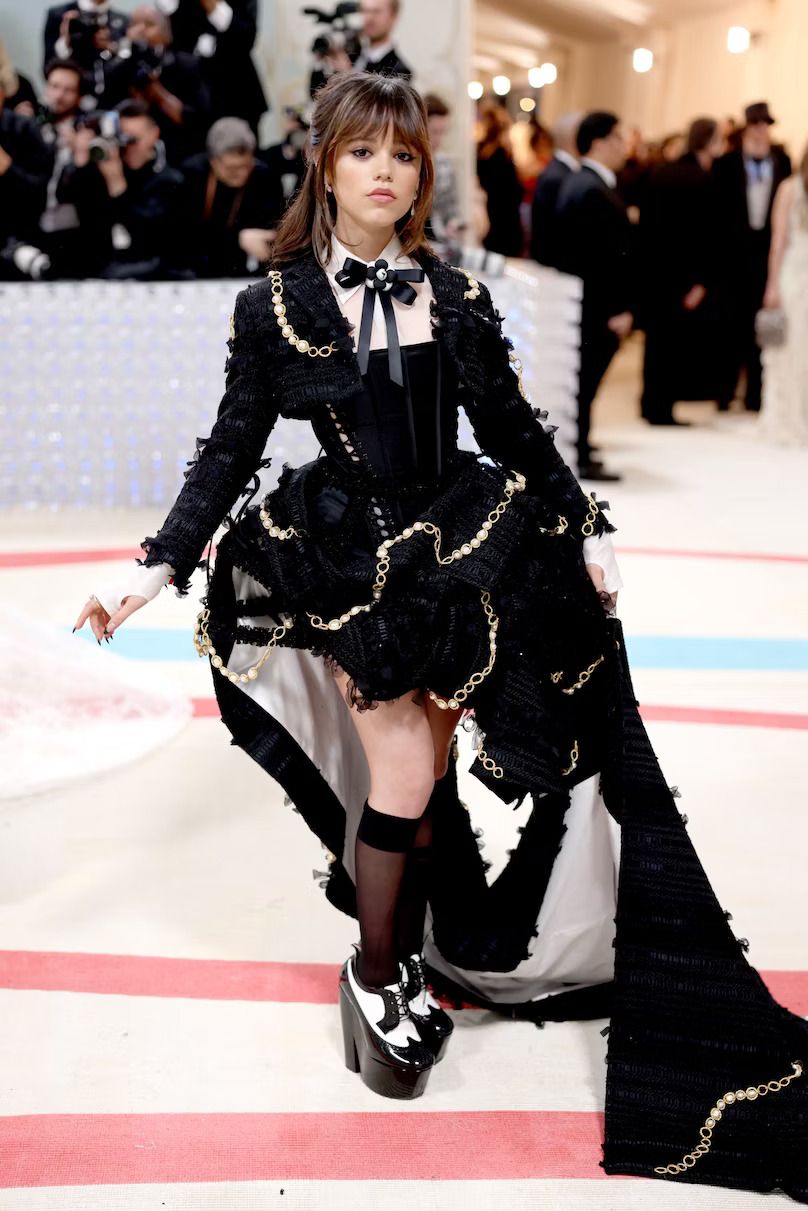 Jenna Ortega in the 2023 Met Gala/ Foto: Getty Images: John Shearer
Elevating her Wednesday look, Jenna Ortega sports a goth-inflected look with her tweed oxford ruffled dress. Gold and pearl chains, a schoolgirl bow, and black corsets are the sweet details to her look.
Billie Eilish in Simone Rocha
Billie Eilish in the 2023 Met Gala/ Foto: Vogue
Not only Jenna Ortega, Billie Eilish also wore a gothic Simone Rocha halter gown for the Met Gala. The high-necked dress was made with complete repurposed fabrics, patch-worked together to create a lace edged tulle dress and tinsel cotton tweed harness with embellished hips in jet crystal. She paired the gothic gown with hand beaded jet crystal cluster tulle gloves and stockings.
(HAI/alm)