Jakarta
-
Culture and tradition are forces that guide and shape us into who we are, whether consciously or not. For Auguste Soesastro, distance is what draws him closer to his own cultural heritage. Soesastro's family descended from immigrants from Southern China who settled in Java. Since all of the immigrants from before the 17th century were males, most of them married local women, bringing the Indonesian Peranakan ethnic group into being. Cultural intermingling across generations defined Peranakan culture, which birthed a vibrant marriage of ancestral traditions and those from one's adapted home. The embracing of Javanism is known as "Njawani", a term synonymous with Peranakans who have adopted the customs, lifestyle and philosophy of the Javanese, and something that would in turn inform Soesastro's work in the future.
Craftsmanship seems to run in his blood, as Soesastro himself came from a long line of Batik artisans from both sides of his family. While his family's success peaked in the 1920s and 1930s, the Japanese invasion and political unrest in the subsequent decades led Soesastro's family to move abroad. Soesastro himself spent a good part of his life in the Netherlands and the United States, before moving back to Indonesia and then Australia. A brief spell in Indonesia was a curious period in his life, when he felt foreign in his own homeland. It was only afterwards that he felt the pull of Indonesian culture, when he studied in Australia. After a stint in architecture and design school, Soesastro found his way into fashion by studying at Ecole Chambre Syndicale de la Couture in Paris and an internship at Ralph Rucci.
Soesastro's label, Kraton—established in 2008 in New York City—is a culmination of his heritage, educational background, thinking, and interests. The exhibition ꦢꦪꦤꦶꦁꦧꦸꦢꦶ - force of subtleness, held in Plaza Indonesia's The warehouse, provides a glimpse into the first 15 years of Soesastro's career as a fashion designer. Described by curator Sadiah Boonstra as the embodiment of "the quiet battle to disrupt social conventions and break down stereotypes of racial identity and class", the semi-retrospective exhibits works that are categorized into three pillars, Njawani, Architecture, and Minimalism. ꦢꦪꦤꦶꦁꦧꦸꦢꦶ - force of subtleness is Soesastro's first exhibition at a large scale showcasing works from his first debut to the present and artworks that relate to his design practice.
The first category, Njawani, saw Soesastro delve into the complex history of his family and culture. The pieces are "democratizations" of design motifs from Javanese courts, reinterpreted and recontextualized for audiences without limits in modern times. Soesastro himself is insistent that his work is reverence that comes from a distance. Through rigorous research of the transnational history of traditional garments, Soesastro's work relieves itself of static tradition, borders, politics, and taboos. While for some, traditional garments and cultural products exist separately from fashion, Soesastro himself does not even think of the borders between them—everything exists in a dynamic sense of being.
The Architecture category traces back into Soesastro's architectural education background. As Soesastro saw the lack of innovation in the Indonesian fashion industry, he looked to aspects of architecture as reference, namely biomimetics, mathematics, and futurism. The approach is reflected in the patternmaking and construction of his garments.
The third category, Minimalism, exhibitsSoesastro's longstanding penchant for making clothes from single patterns. Pieces from this collection are entirely made from a single pattern offabric—with intricate cuts that dart and fold to envelop the wearer'sfigure—a testament to the obsessive pursuit ofSoesastro's perfectionism. One particular jacket from the category, dubbed the "Reduction Jacket", even tookSoesastro a decade until it reached a satisfactory result.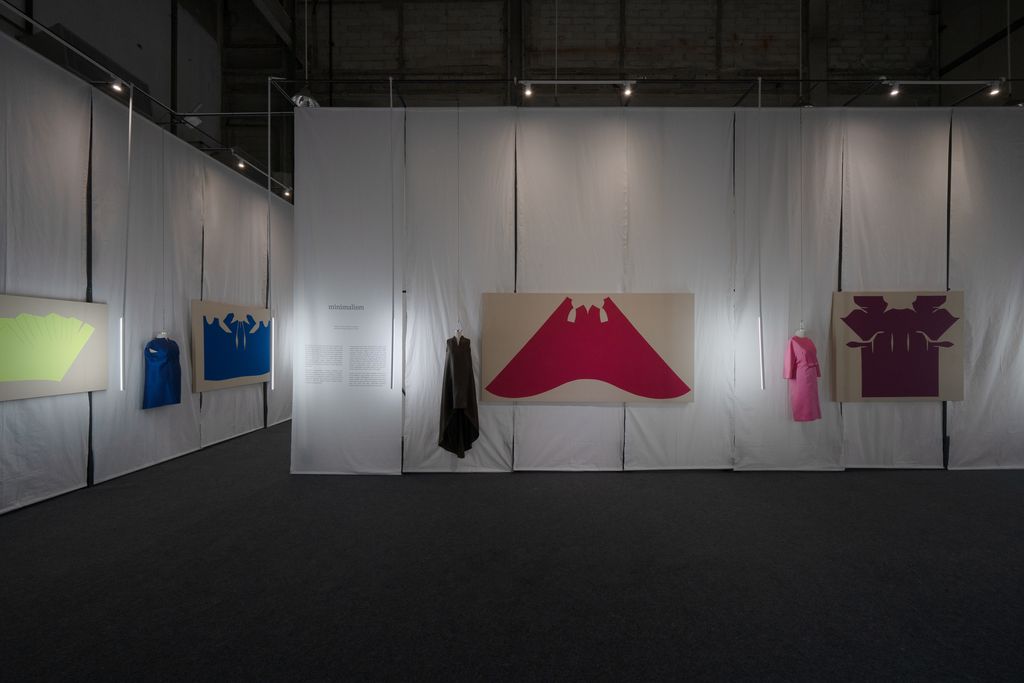 Patterns and pieces from Soesastro's
Minimalism
collection./ Foto: Plaza Indonesia
Understated elegance underlines Soesastro's body of work. Devoid of frills and spectacle, the complexity of his garments is shown in the details and construction. There's a structural quality to the garments, from its three dimensional darted collar that stands elegantly, tubular sleeves that maintain their shape, to the draping that envelops his dresses. Take a closer look and the amount of research that went into these garments are quickly apparent. While cerebral, Soesastro's mastery of silhouettes never seem showy. Rather, like the designer's soft-spoken manner, the designs whisper its intricacy. As with any whisper, it's better to experience them up close.
ꦢꦪꦤꦶꦁꦧꦸꦢꦶ - force of subtleness is open from August 15 to September 10, 2023 in Plaza Indonesia's The Warehouse. Curated by Saadiah Boonstra, architecture by studiodasar, graphic design by Noone, videography by Reuben Torino.
(alm/tim)