Jakarta
-
Beyoncé's "Renaissance" World Tour has officially started. The Diva kicked off the opening night of her tour in Stockholm, Sweden last Wednesday (10/5). The Grammy Award-winning artist surely put on a show and made everyone's jaws drop to the ground, ears blessed by her angelic voice, and heart-eyed for her visuals.
Truly a showstopper, Queen Bey made sure no one can take their eyes off her by strutting the stage in a collection of custom-made designer outfits specially made for her.
Opening the tour with non-Renaissance songs, "Dangerously In Love," Beyoncé lit up the stage in a dark gray metallic Alexander McQueen catsuit and Tiffany & Co. jewelry styled by Shiona Turini. The one-piece garment featured a futuristic silhouette with rounded shoulder pads and prominent hip embellishments. Some lines of the outfit are adorned with hundreds of sparkling crystals.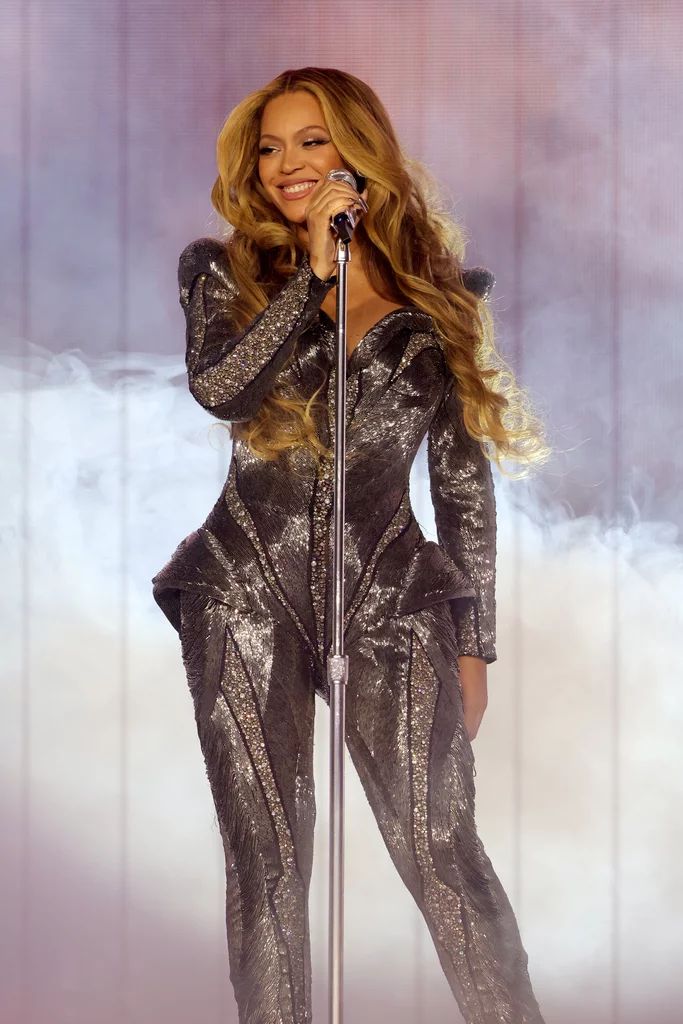 Beyonce/ Foto: Getty Images
As the night goes, her wardrobe becomes more and more extravagant and colorful. The intro of the first track of Renaissance, "I'M THAT GIRL" starts playing and Beyoncé changed her outfit to a custom-made Courrèges silver sequin bodysuit with a cyborg-inspired asymmetrical sleeve. She paired the look with ruched thigh-high boots in white by GEDEBE and a single black glove.
Singing TikTok's favorite song "CUFF IT", Beyoncé dresses in an iridescent wrap dress layered under a reflective coat by London-based designer David Koma. She proceeds to continue the glistening night by wearing head-to-toe glittery outfits by Loewe; silverish glitter tight long sleeves and cargo pants complete with a chrome bandeau and matching bling-bling boots.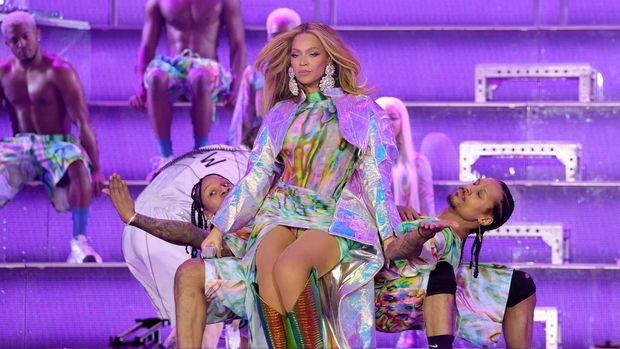 Beyonce/ Foto: Getty Images
Of course, she had to bring out one of the custom-made Balmain by Olivier Rousteing, whom she collaborated with to create a couture collection inspired by Renaissance. The outfit is very Balmain-coded which is a corset made entirely of pearls. She pairs it with a black bodysuit.
Then, enter the skin-like shimmering gold Loewe bodysuit as the singer sings several hit songs like "Love On Top", "Crazy In Love", or her newest, "VIRGO'S GROOVE." The long custom bodysuit is bedazzled with crystals combined with graphic hands with red painted nails, truly a provocative look she can pull off.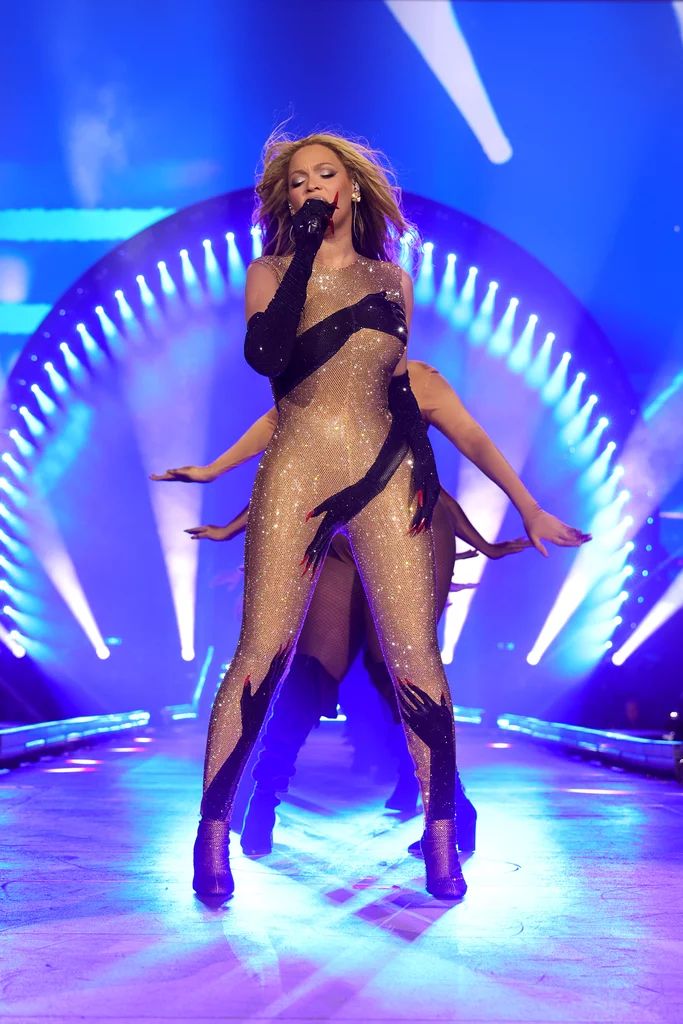 Beyonce/ Foto: Getty Images

Before the show ends, Bey transformed into a bee by wearing a cutout Mugler bodysuit in yellow and silver complete with an insect-like head piece and black leather knee-high boots to deliver perfectly hit notes for "THIQUE", "AMERICA HAS A PROBLEM", and more. She's surely fun and a bit comedic at times.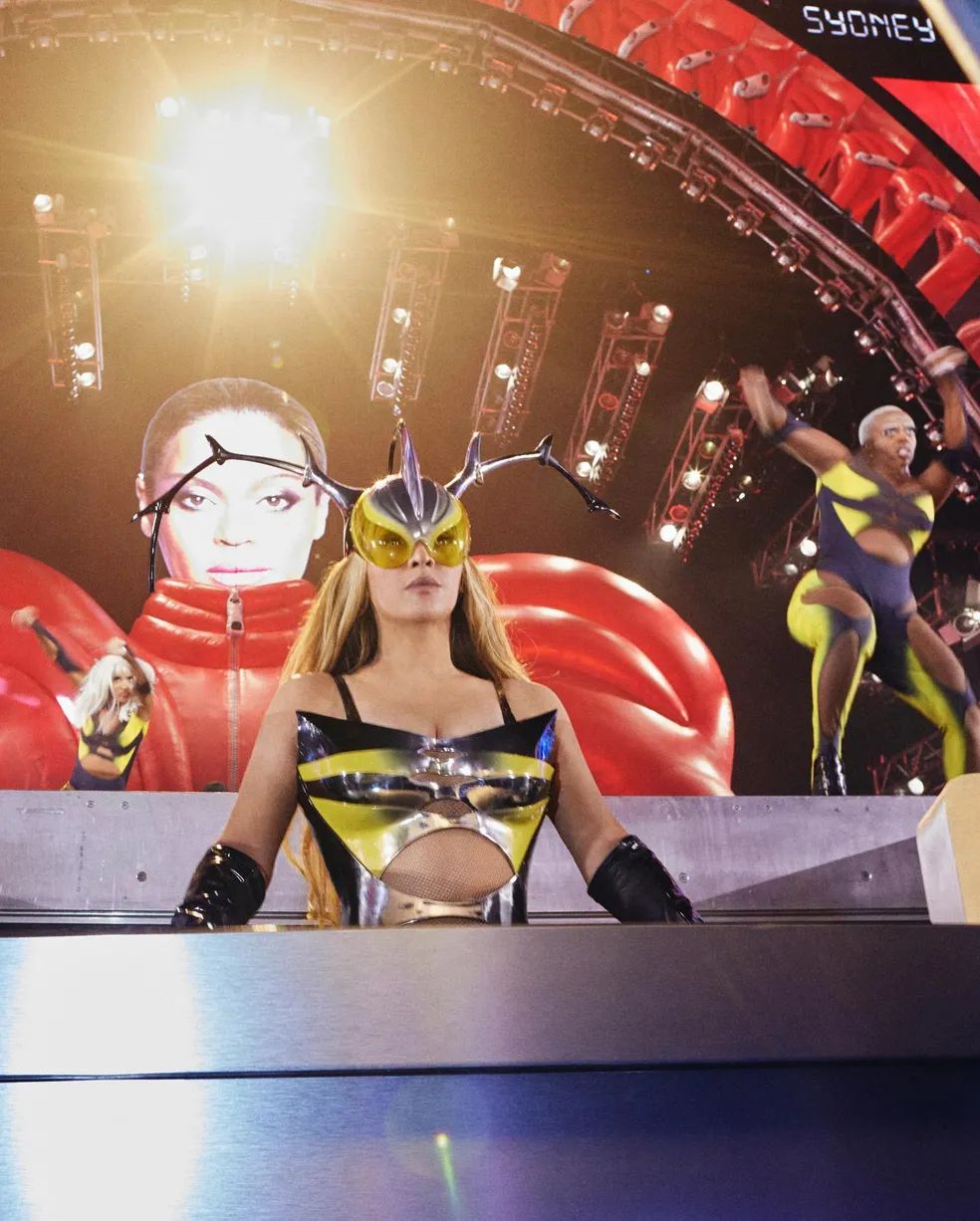 Beyonce/ Foto: Getty Images
The ending takes everyone's breath away because Queen Bey is showing how it's done by riding the crystallized iconic horse 'Reneigh' to give a nod to the Renaissance album art cover, while dressing in the same sentiment. Not only just being on top of it, but she's really flying just like Patrick in The SpongeBob SquarePants Movie (2004), wearing a Coperni metallic bodysuit and a matching dramatic silver cape.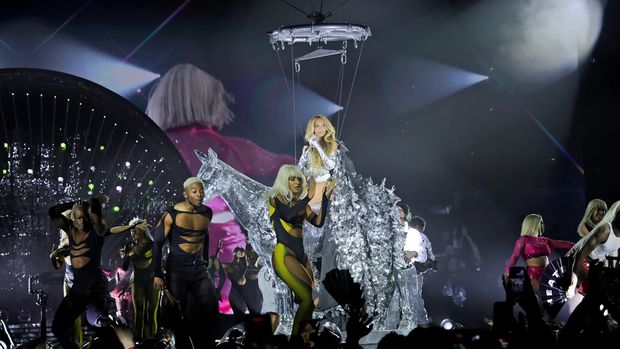 Beyonce/ Foto: Getty Images
She surely knows how to put on a show!
(HAI/DIR)