Jakarta
-
The 65th annual Grammy Awards, otherwise widely known as music's biggest night, kicked off in L.A. at the Crypto.com Arena. Hosted by Trevor Noah, some of the music industry's biggest stars hit the red carpet before the ceremony started in their most stunning and glamorous looks. Below are our favorite looks from the red carpet of the 65th annual Grammy Awards.
Doja Cat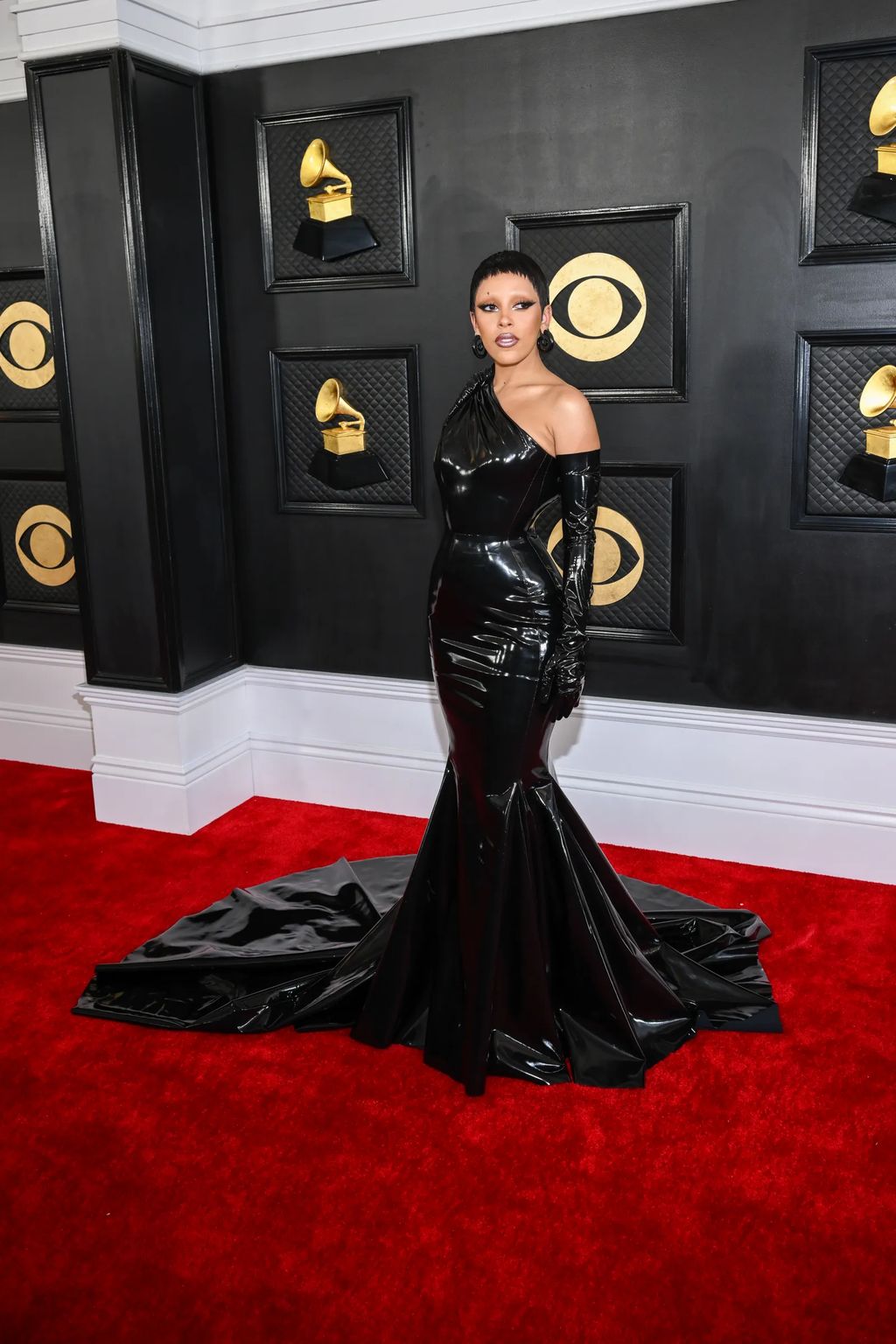 Doja Cat at the 2023 Grammy Awards/ Foto: Getty Images
Stepping on the red carpet in black from head-to-toe, Doja Cat looked graceful and comfortable in her full-latex dress that belies how tricky it must be for her to put on, wear, and walk in. The one-shoulder black Versace gown paired with long black latex gloves and spiral statement earrings with a few diamond ear studs brought drama to her whole look for the Grammy red carpet.
Cardi B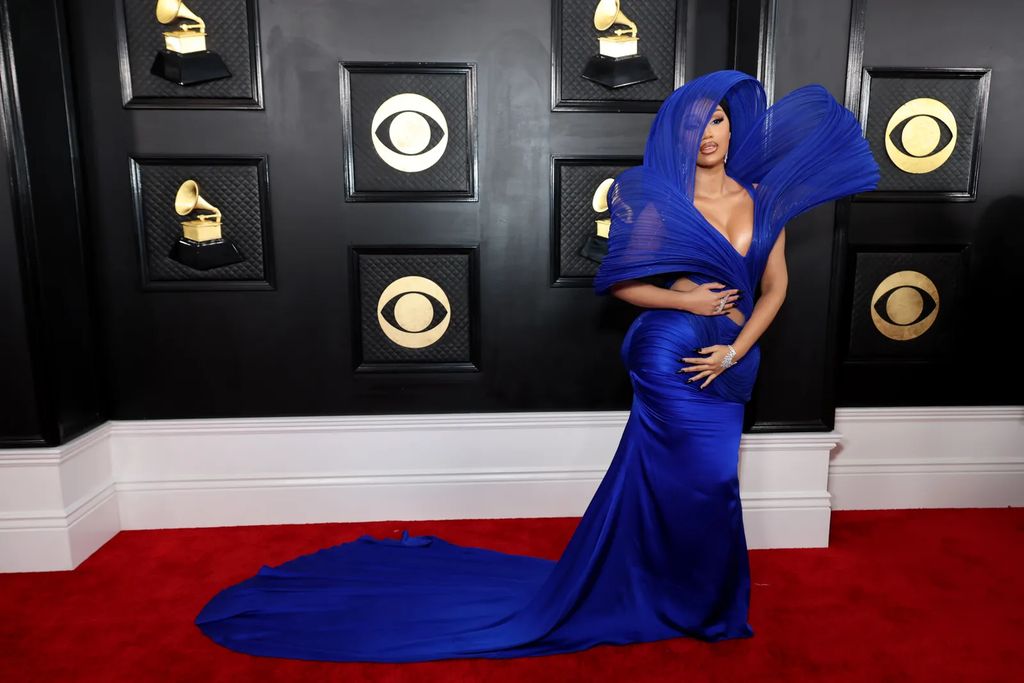 Cardi B at the 2023 Grammy Awards/ Foto: Getty Images

Recalling her last red carpet's look with the oyster shell gown by Mugler Couture's Fall 1995 collection, this year's look happened to be another one of her hits. As one of the presenters at the ceremony, Cardi B showed up in an electric blue gown from Gaurav Gupta's Spring/Summer 2023 Haute Couture runway. Her jaw-dropping dress included pleated structural details that flowed from her shoulders, around the waist to the top of the rapper's head.
Megan Fox and Machine Gun Kelly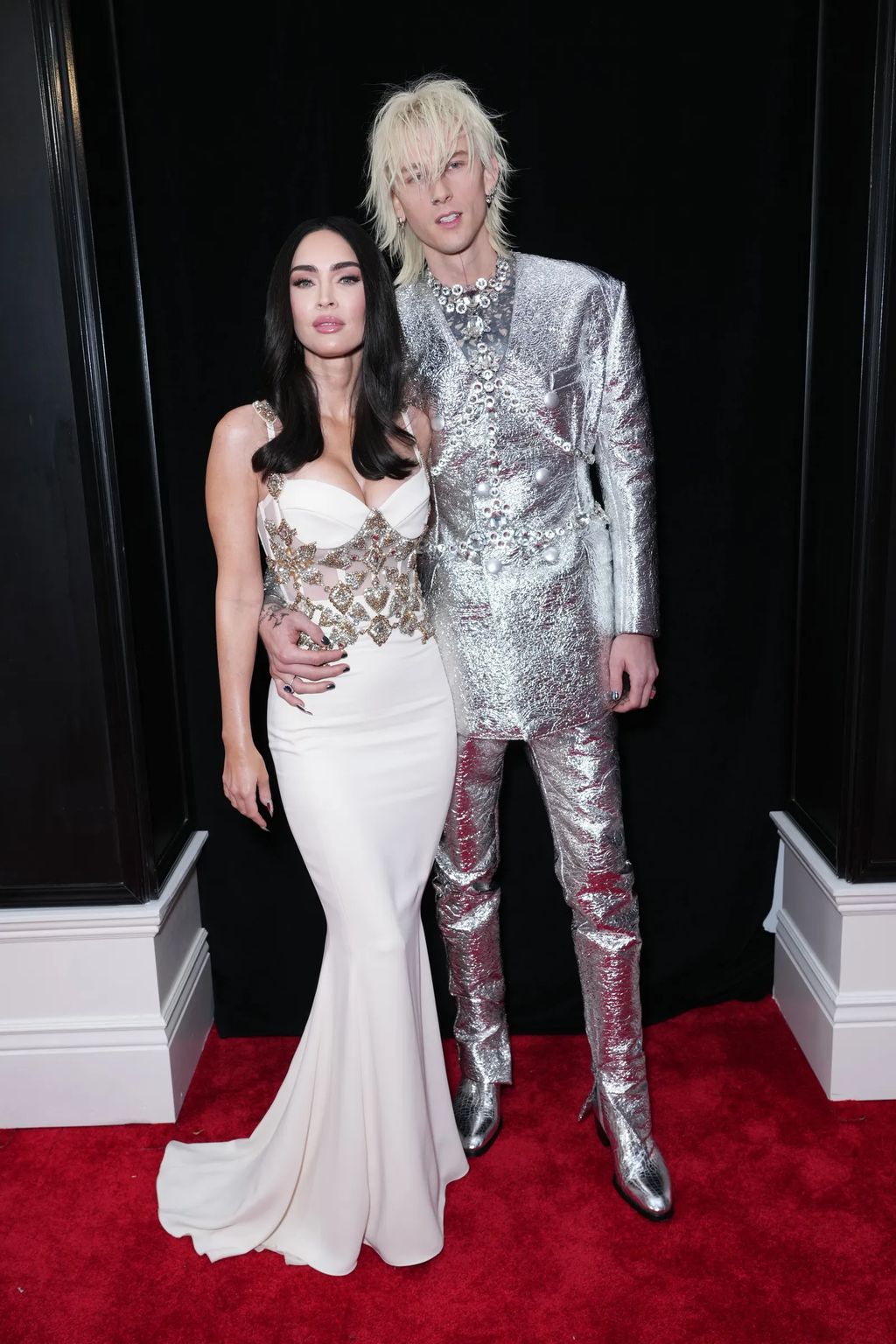 Megan Fox and MGK at the 2023 Grammy Awards/ Foto: Getty Images

The hot couple came hand in hand with color-coordinated looks. Megan Fox looked absolutely stunning in her ivory dress with a sheer corset bodice adorned with sparkling silver and gold embellishments. The whole look was nicely paired with Santoni heels and Lorraine Schwartz jewelry. Her man, MGK, was wearing head-to-toe silver. With Dolce & Gabbana crinkled metallic suit, he paired the look with matching boots and bedazzled body harness.
Landon Barker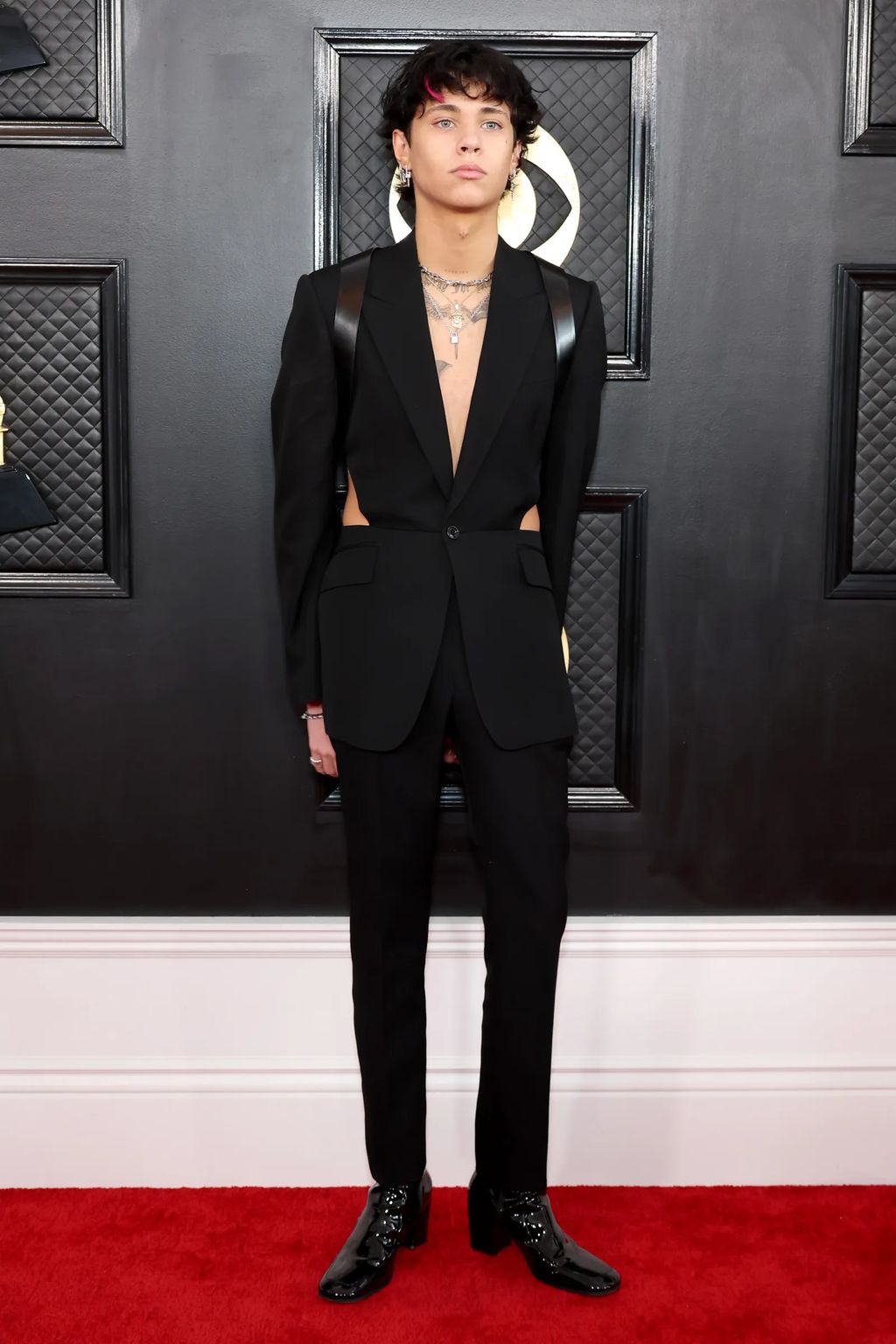 Landon Barker at the 2023 Grammy Awards/ Foto: Getty Images

Travis Barker's son, Landon Barker, came to the music industry's biggest night with Charli D'Amelio in hand. With his all-black Alexander McQueen and Eéra jewelry, he brought a little spice in menswear to the table. Serving a little bit of subversive style with cutouts above the blazer pockets and no shirt underneath, he was serving the all-black look.
Sam Smith & Kim Petras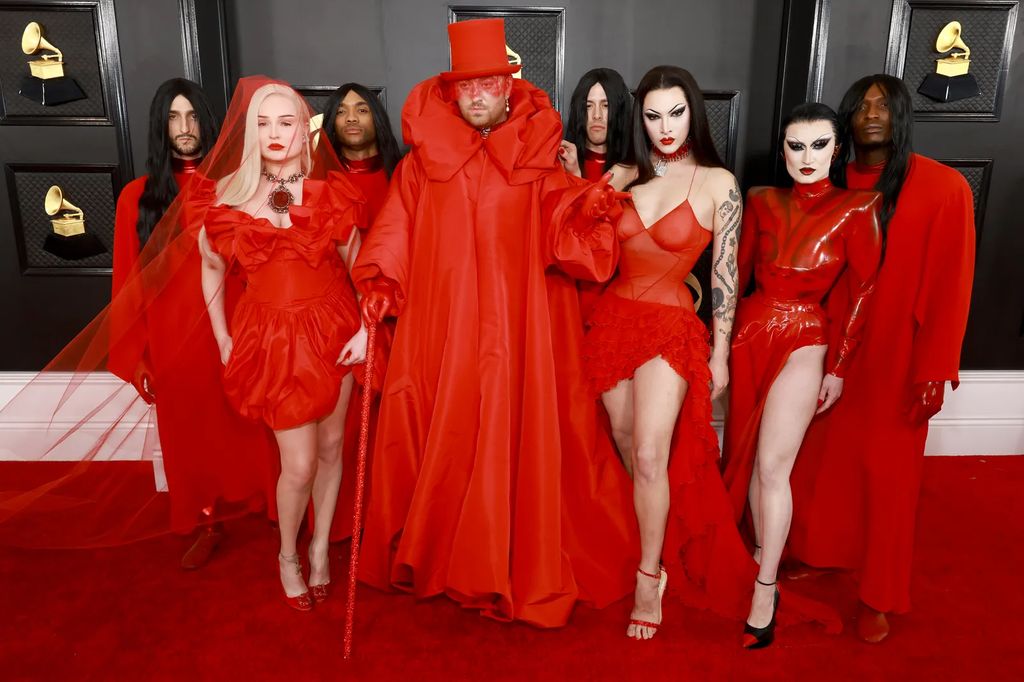 Sam Smith, Kim Petras, and Their Entourage at the 2023 Grammy Awards/ Foto: Getty Images
The 30-year-old singer Sam Smith made a blast on the red carpet with their floor-length red gown along with matching gloves, a top hat, and a sparkly cane. Their date and duet partner for the hit song "Unholy", Kim Petras, came with a shorter devilish red dress by Victor Costa, completed with a sheer red veil cascading from her platinum blonde hair. The singers were joined by an entourage who came in the same bright shade of red, including the drag queens Violet Chachki and Gottmik.
Jack Harlow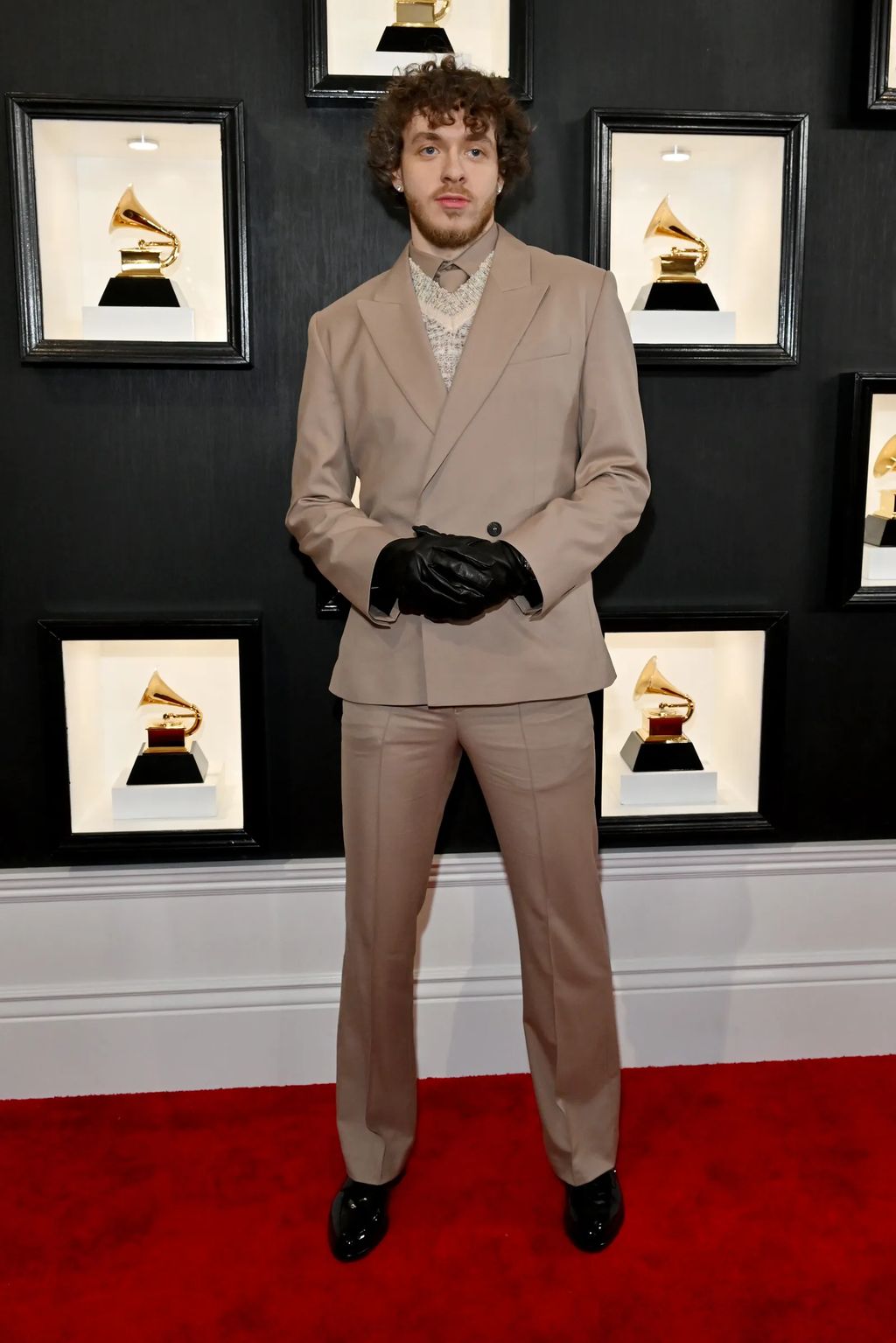 Jack Harlow at the 2023 Grammy Awards/ Foto: Getty Images
This boy is always a whole damn snack when it comes to every red carpet occasion. Looking dapper in a tan suit and black gloves, he undoubtedly became everyone's eye candy. When asked about his red carpet looks, he explained that he chose a simple outfit he felt the most confident in for the event. "I don't know," he said. "I guess I just looked in the mirror and felt good about this one."
Turnstile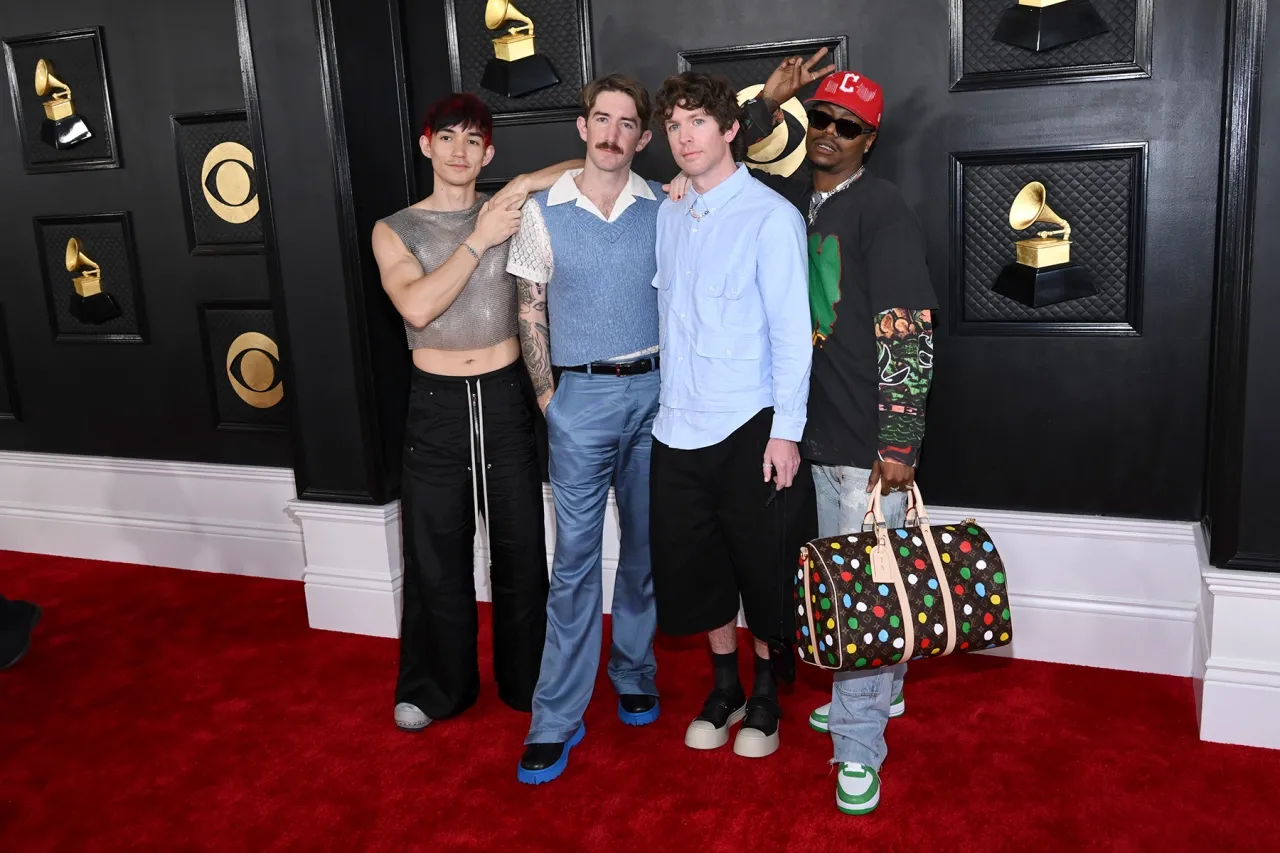 Turnstile at the 2023 Grammy Awards/ Foto: Variety
One of the most exciting hardcore acts of recent years came with equally impressive outfits. The four-piece appeared on the awards show with contemporary menswear pieces, with a touch of streetwear sensibilities and a dash of womenswear mixed in. Singer Brendan Yates wore a multi-pocket light blue button down shirt with culottes from Bottega Veneta and Marni shoes, with pearl necklace underneath the shirt's collar. Guitarist Pat McCrory wore a powder blue-toned outfit, with similar colored knit vest and trousers over a sheer white shirt that shows off his tattoos and a clunky Off-White leather derbies. Bass player Franz Lyons brought a recent Louis Vuitton and Yayoi Kusama bag while wearing a short-sleeved Bad Brains t-shirt over long-sleeved Supreme t-shirt, with double knee denim and another piece from Louis Vuitton, the late Virgil Abloh's iconic Nike Air Force 1 collab. The most adventurous look, however, was drummer Daniel Fang's, with a stainless steel mesh top from Fannie Schiavoni, Rick Owens pants, and Brain Dead's wooden clogs. As a hardcore unit making a crossover to the mainstream spotlight, the band's enthusiasm to experiment—even in fashion—does not diminish their ferocity.
(DIP/alm)