Jakarta
-
After his retirement back in 2020, Jean Paul Gaultier is relishing his new role as a curator of sorts. For the fourth time now, Jean Paul Gaultier has invited a guest designer to his eponymous house for a one-season collaboration. Among the names invited are Chitose Abe of Sacai, Glenn Martens of Y/Project, and Olivier Rousteing of Balmain. The fourth name, which has been anticipated for quite some time, is Haider Ackermann.
During Paris Couture Week, Ackermann unveiled his interpretation of Jean Paul Gaultier's archive. His own eponymous label has been somewhat quiet as of recently, and after he left his post at Berluti, the fashion crowd has been waiting for Ackermann's next move with bated breath.
Aside from being invited to design for Jean PaulGaultier, which is an accolade in itself,Ackermann also faced a unique challenge in that his design language stood in stark contrast withGaultier's brand of rebellion.Gaultier himself gaveAckermann complete freedom to work with hishouse—his one request is forAckermann to not make a rehash of any of his old styles. AsAckermann put it,Gaultier wanted to be surprised. WhileAckermann approached the idea of what we wanted to do for the label over dinner,Gaultier didn't want to hear any of it. It's safe to say after the unveiling,Gaultier was not the only one who was surprised.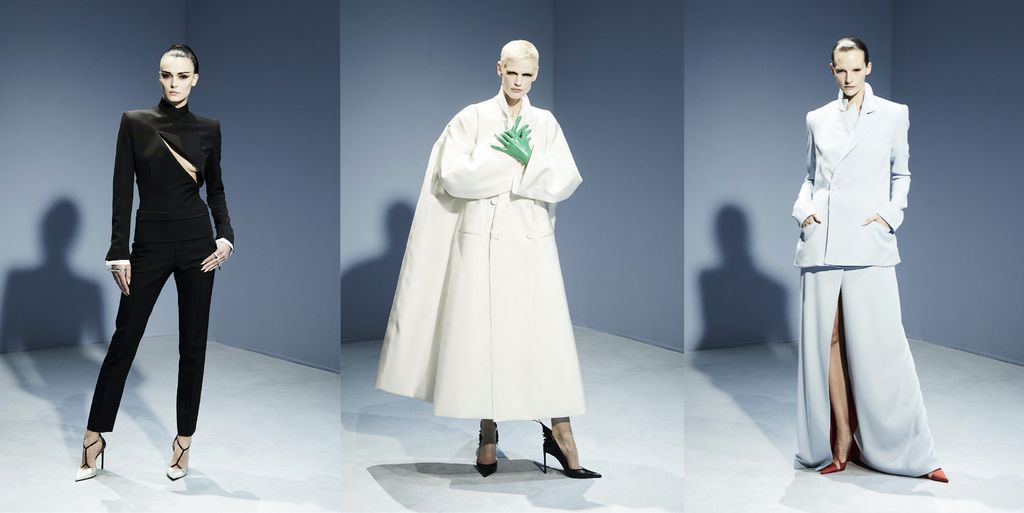 JPG Couture Collection/ Foto: Jean Paul Gaultier
In what is his first couture collection, the common thread that Ackermann found in his and Gaultier's work is tailoring, which he explored with mastery. Floor-length dresses, feather ornaments, textured coats, sharp stilettos—all parts of the intricate whole of Ackermann's artistic vision. Seen through different angles, the pieces exhibit details that collide Ackermann and Gaultier's design language. Women took the center stage, as Ackermann found that his admiration for women is something that he shares with Gaultier.
Upon closer look, the textures communicate deeper meaning. One men's top and long coat, along with women's two-piece tracksuit are covered in silver pins, paying homage to the seamstresses who make the couture collection happen. One women's look features a sleekly-tailored trousers with obi sash, topped by a blazer with a slit across the chest. The look encapsulates the sensuality commonly found in the two designers' body of work. The drapery might conceal the model's body from one angle, yet another angle will reveal an opening that accentuates the female form.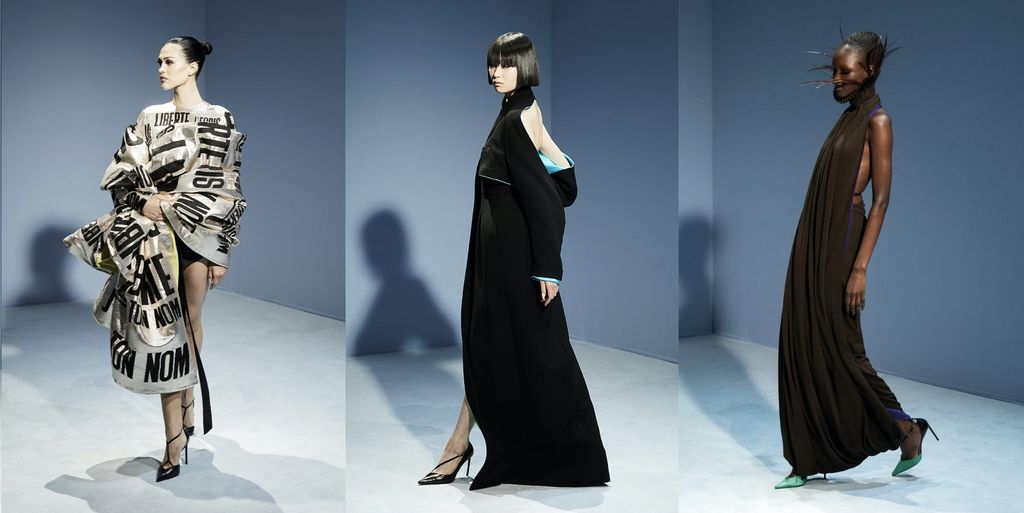 JPG Couture Collection/ Foto: Jean Paul Gaultier
Amidst the blue background, the show becomes more poignant when the soundtrack—spoken word ambient murmuring each model's names as they walked through the runway—changes to the song "Baraye" by Iranian artist Shervin Hajipour. The song was written for Mahsa Amini, a 22-year-old Iranian woman who passed away after being detained by the country's moral police. As per Ackermann, the song was played to communicate a "human message". He stated, "In haute couture, you're bringing the woman up there on a pedestal, so you can't not think about every other woman and her right to freedom, too." In what Ackermann described as a love letter to Jean Paul Gaultier, his first couture collection also shows the same love to women. Triumphant in its elegance, the sight of Jean Paul Gaultier's smile throughout the whole show said everything that needed to be said.
(alm/tim)