Jakarta
-
If you feel like you require better professional assistance, try considering hiring a coach to help monitor your progress if you're still comfortable with working out at home. Ever since the pandemic began, trainers have started coaching people virtually. These virtual coaching sessions generally come in 2 kinds of coaching: private 1-on-1 sessions via Zoom or Google Meet, or you record yourself doing the sets and send it to the trainer for feedback on how you can better improve yourself. While the rate may vary from one coach to the next, it's worth considering as it is paramount to have an actual person to help you out.
Exercising at home has been a popular trend lately due to the ongoing pandemic. But for some people, it's more so because of the jam-packed schedule that prevents them from going to the gym. Even so, home exercise comes with its challenges. While it's great for those who can afford the equipment set, those who are on a shoestring budget have to get creative with what they have. It's not easy either to determine what kind of home exercise regime is for you. There are a lot of things to put into consideration, and we are no experts on the matter. Hence, we spoke to a trainer at Infinite Fit Camp, Mario.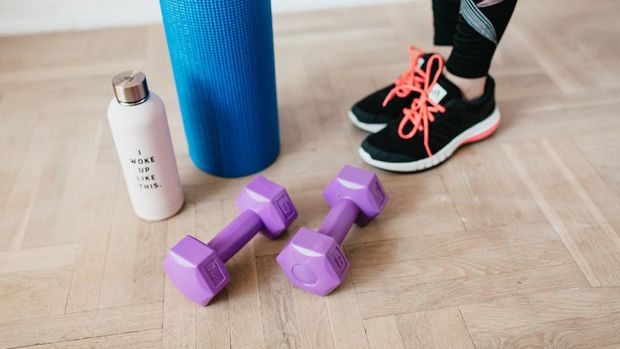 Ilustrasi berolahraga di rumah/ Foto: Karolina Grabowska - Pexels
According to him, there is no one-size-fits-all solution when it comes to determining what kind of exercise regime works best for you, as everyone has a different body weight, height, and motivation for working out. Some people might want to just stay healthy, while others might want to build muscle, improve stamina, or lose fat. First, you need to set your own goal, then you can start exercising.
So, what kind of exercise routine should you do? In Mario's words, "Anything you like." If you're into jogging, go for it. If you prefer weight lifting, go ahead. As long as you make time for it, consider it a win. For starters, you can do bodyweight exercises. There are a lot of things you can do by utilizing your body weight: push-ups, sit-ups, jumping jacks, plank, burpees, and the list goes on. You can also use assistant apps like Freeletics to help you. In the app, you can input information such as your training motivation, weight, and height, and the algorithm will do the math for you to create a workout program that works for you. As amazing as it sounds, it's still an app that might not have the perfect solution for you, but it's a great start nonetheless.
Once you've felt your growth is getting stagnant after doing the same exercise over and over again, you might want to get additional equipment to allow yourself to do more kinds of exercises. In that case, you can begin with getting a pair of dumbbells or kettlebells of your preferred weight. Similar to bodyweight exercise, there's a lot you can do with a pair of dumbbells or kettlebells. You can do bench press, bicep curls, shoulder press, lunge, you name it. If you're committed to it, you'll eventually get more and more equipment over time as you keep raising the bar.
Ilustrasi olahraga/ Foto: Karolina Grabowska - Pexels
Who knew that there's so much you can do for fitness even though you are not at the gym. You can do bodyweight exercises or cardio like jogging or rope skipping, whichever you prefer. If you are clueless about what kind of exercises to do, get Freeletics installed on your phone or look for workout routines on YouTube. "You don't try to squeeze exercise into your schedule. You make time for it. You only need to spare 20-30 minutes a day anyway. In hindsight, it's only a fraction of your day," said Mario in his words of motivation. Good luck!
(HAL/MEL)