Jakarta
-
In the best possible way, Rick Owens is immutable. His designs—severe and distinct—are highly idiosyncratic to his own self. In the face of a constantly changing world, his creative vision adapts and expands, as opposed to changing. Beneath all the intricate layers and extensive references, the DNA of the label remains steadfast and true.
For the label's Fall/Winter 2023 collection, "LUXOR", Rick Owens stripped back the forms of his pieces while referencing the Victorian era. The reticence commonly associated with said era is seemingly at odds with Owens' grimy flamboyance, yet the result is unmistakably in character. While in a way the pieces do conceal the wearer's body, they also expose and accentuate other parts.
Opened by Owens'protege Tyrone DylanSusman, theshow's first look instantly encapsulates the overall "feel" of the collection. Clad in an open-front cloak over his bare chest,Susman appears as a darkly majestic figure in what Owens dubbed as his "wartime collection". Protruding sculptural shoulders, elongated sleeves, voluminous jackets, pants that flow down to thefloor—all usual staples of Owens, which once again showcase his mastery of distorting silhouettes and manipulating proportions.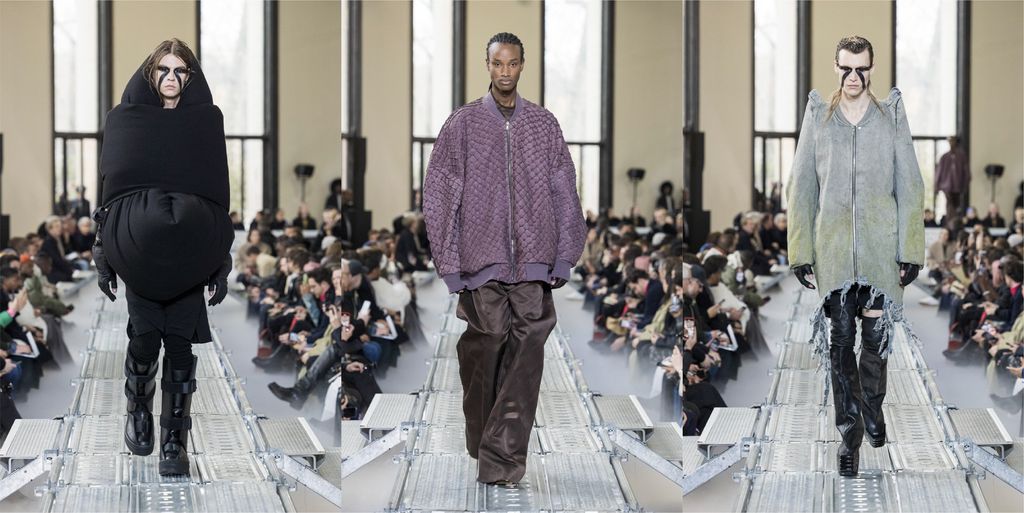 Stripped-back forms, pirarucu leather, sculptural shoulders, and deteriorated looks appear throughout the collection/ Foto: Rick Owens
The models stride through an equally stripped-back runway, an elevated metal scaffolding snaking through theshow's attendants. With a thin layer of fog underneath, attendants need to look upward in order to look at the pieces. Some of the models appear with dramatic eyemakeup—black lines that begin from the sides of the face in a downward stroke.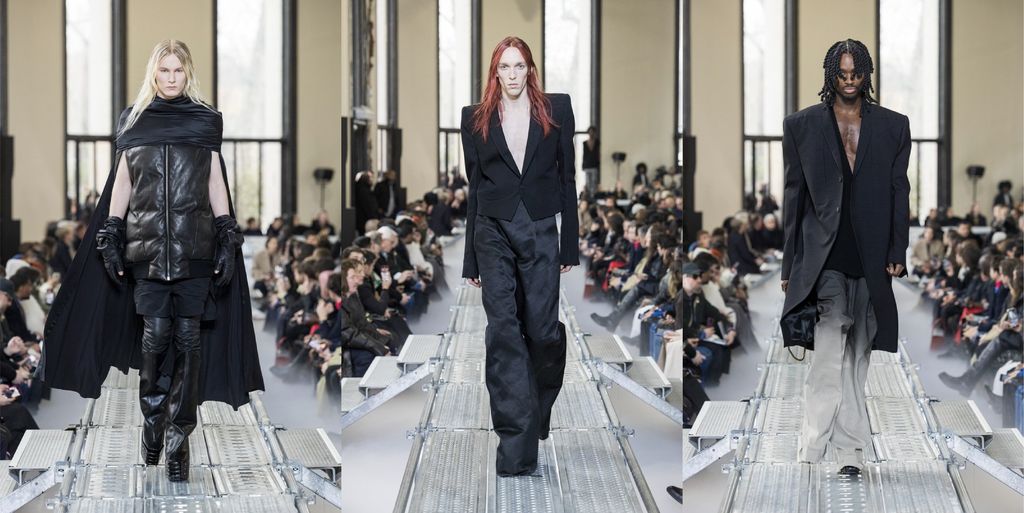 Balance of proportions in different silhouettes/ Foto: Rick Owens
Reimagined staples include Owens' signature Kiss Boots, now added with buckled straps which make them seem more imposing and somewhat quite like orthopedic shoes at the same time. Padded pieces are reduced to its most basic circular forms, which Owens himself dubbed as "duvet donuts". Elsewhere, pirarucu leather makes a comeback in the form of bomber jackets. Cropped jackets are balanced with the severity of its tailoring and volumes in other body parts. Elaborate distressing appears repeatedly, in slashed heavyweight jeans and bottom parts of jackets that fray into oblivion. The styling is expectedly immaculate, yet the wholeness of the collection does make one wonder what other combinations can the pieces be worn in.
While darkness is an underlying motif in Owens' oeuvre, this affair feels more somber and visceral. Owens is not one to avert his gaze from the ugliness of the world, yet his show does go on. It's not an act of escapism, nor is it something like a movement. It's an interpretation of the world with certain periods of time as a reference point, filtered through the singular vision of one of the most authentic designers in the world. Long live the dark lord.
(alm/tim)