Jakarta
-
Though intangible, there rested an insurmountable weight of expectation on Peter Do's shoulders. The elusive 32-year-old designer—with a tenure under Phoebe Philo and Derek Lam—shares apparent characteristics with Helmut Lang, a designer whose namesake label Do now serves in as a creative director. Much has been missed from Lang's presence, who left fashion entirely in 2005 to become an artist. While it may not be his intention, Lang's sleek and subtly sensual design language proved to be influential in shaping fashion into what it is today. However, after his departure, his label spent years without a clear direction—with occasional flashes of brilliance from guest designers. Thus, Do's appointment at the creative director position earlier this year has left many enthusiastically waiting. On September 8, 2023, Do presented an answer to the aforementioned expectations brilliantly.
Held on the first day of New York Fashion Week, the timing could not have been more symbolic. Before 1998, New York was the last stop of fashion's big four cities tour—with London, Milan, and Paris. When Lang decided to go off-schedule and hold his presentation early in September, the city and industry followed along. At the center of Do's debut in Helmut Lang is, expectedly, New York. As a city so often romanticized, Do's ode to New York simultaneously speaks to the common experience of being there as well as his own personal journey.
While a lot of the silhouettes are reminiscent of Lang's works, everything was created by Do and his team from scratch. Blazers and coats are embellished with diagonal lines across the body, whether in the form of a strap or directly colored over the fabric. The straps extend to linings on the side of trousers and extended belts. While Lang's use of straps reference the sensuality of bondage discreetly,Do's straps allude toseatbelts. This speaks to both New York's ubiquitous yellowcabs—of which Lang pioneered advertising on, back in 1998—as well as what constitutes as "luxury" for Do when he first moved to the United States: a car. "When I started thinking about what I wanted to do for the house, I was thinking about when I first moved to Philadelphia at 14. One of the first luxurious experiences that I had was being in a car," Do stated.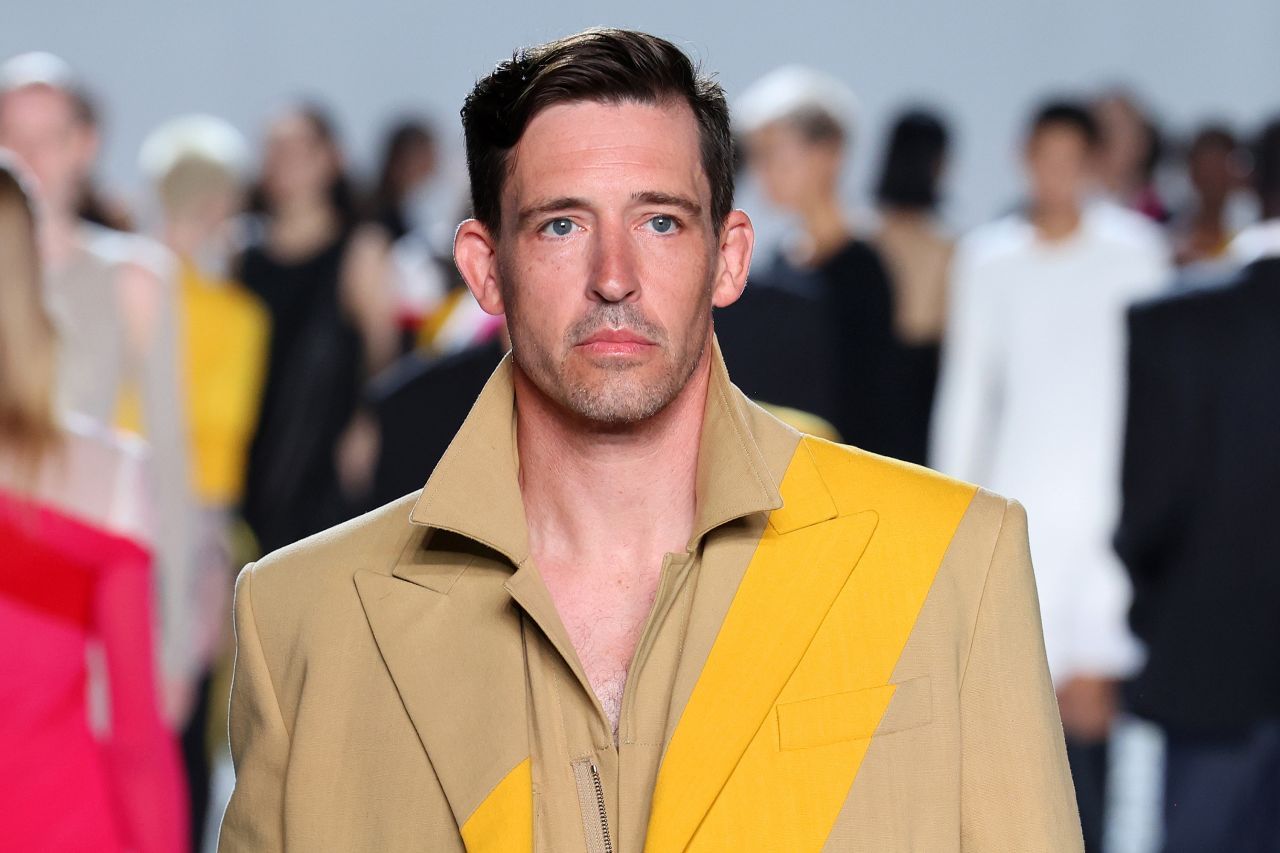 Diagonal lines adorn the front of the pieces, alluding to seatbelts/ Foto: Cindy Ord/Getty Images
The theme of being in motion makes its way into prints, with trains and cabs juxtaposed with each other. The most poignant reference came from Do's personal friend, the poet/writer Ocean Vuong, whose poetries grace the pieces and runway altogether. As an audio recording of his words opened the show, they later bleed into piano notes and New York City Subway announcements. "Your car was my first room/Our clothes on the floor like stepped-on flowers", one t-shirt stated. Over shirts worn backwards by the models, Vuong's poetries lend the collection a gentle and intimate touch—not unlike the nods of subversiveness concealed within Lang's past pieces. Vuong's 2019 book, On Earth We're Briefly Gorgeous, also appeared in one model's hand as he walked down the runway. While the collaboration calls back to thelongtime relationship between Lang and artist JennyHolzer, Do once again imbued his own personal touch as his shared Vietnamese identity with the writer informs both their works.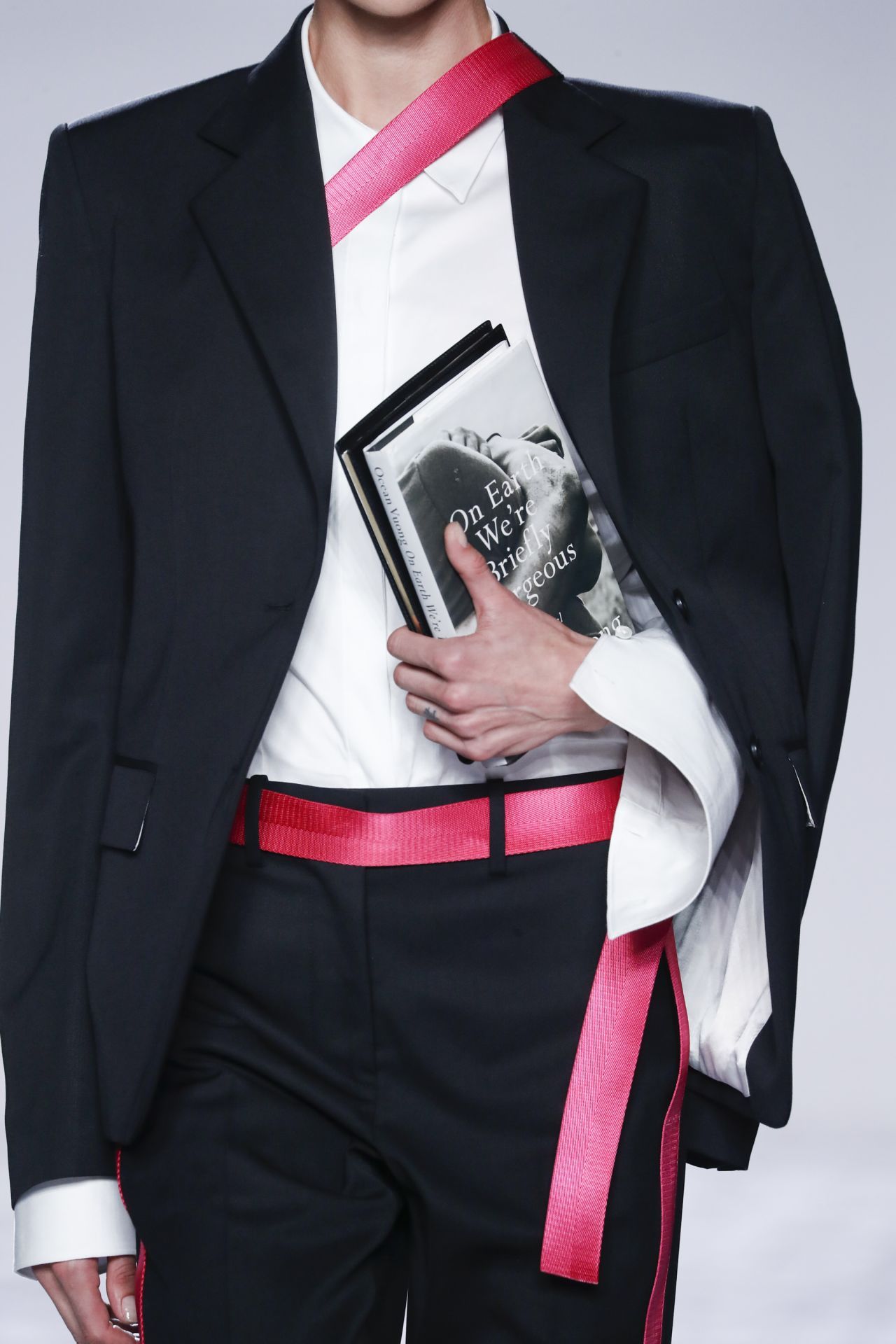 Ocean Vuong's book,
On Earth We're Briefly Gorgeous
, amid the straps and sharp tailoring/ Foto: Helmut Lang
There's an anecdote that the fashion writer Sarah Mower cried at Lang's 1994 show, as she saw a change she believed was about to happen on how people dress. The rising creative class, she believed, had finally found a place to belong in fashion—in Helmut Lang. Do understands the power of Lang's clothes well, as he personally attest to having a "very dirty" pair of white Helmut Lang Jeans he bought secondhand fifteen years ago, which he still wears today. "I feel like when people talk about Helmut, they talk about the pieces of clothing that they own from him, from the brand, and how much those items carried them through. There's always a story behind the clothing," the designer expressed.
Some argued that Do is too respectful to the house's codes for his own good, but the collection only highlights the parallels between his and Lang's design language. Do's earnest approach in pouring what's himself into a collection meant to age and live in people's daily lives culminates into a poignant outcome. I may not cry like Mower did, but Do's debut collection in Helmut Lang lingered in my mind for days. The more I recollect, the more compelling it becomes.
(alm/tim)