Jakarta
-
For the past few years, Gucci has been synonymous with maximalist opulence; a romantic fantasy born out of former creative director Alessandro Michele's vision. References to Greek mythology, Stanley Kubrick's extensive filmography, to high fantasy, all colored Gucci's all-encompassing world. The collections largely border on what's luxe and kitsch, making use of lush color schemes, extravagant materials, and lavish detailing. Thus, Michele's departure begs the question of what form is Gucci gonna take on in the future.
In its Fall/Winter 2023 menswear collection, Gucci answers the question. From the very first look presented—fitted white t-shirt with roomy olive green pleated trousers—it is apparent that Gucci has left its maximalist period in favor of restrained, nostalgic looks. While the world awaited for Michele's successor, the position was left unfilled in the collection. Gucci's own design team, which has worked closely with Michele, designed the collection in what the house stated as a collaborative approach.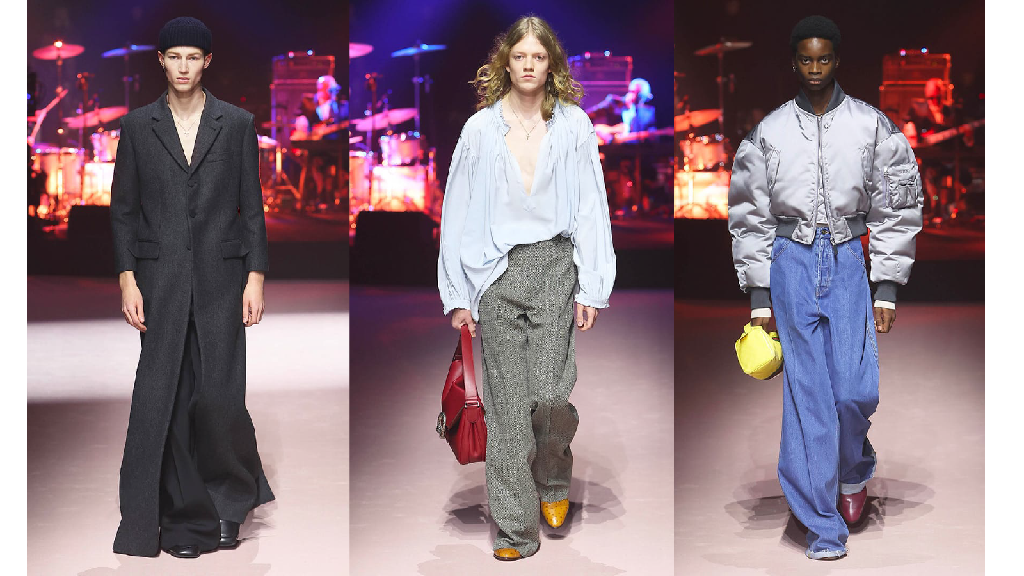 Floor-length silhouette, billowing shirt, and cropped bomber jacket serve notable looks/ Foto: Gucci
As the models walked through the show venue's circular runway, the punk-jazz band Marc Ribot's Ceramic Dog played in the center. The music complemented the show's underlying theme of improvisation, with increasing intensity as the show went on. As per Gucci's notes stated, "Improvisation is an act of collaboration. When the free impulses of individual minds interweave, collective expressions are conceived." The runway layout is also of significance, as the house wrote that it is "symbolic of the collaborative spinning wheel of the creative community at the heart of Gucci."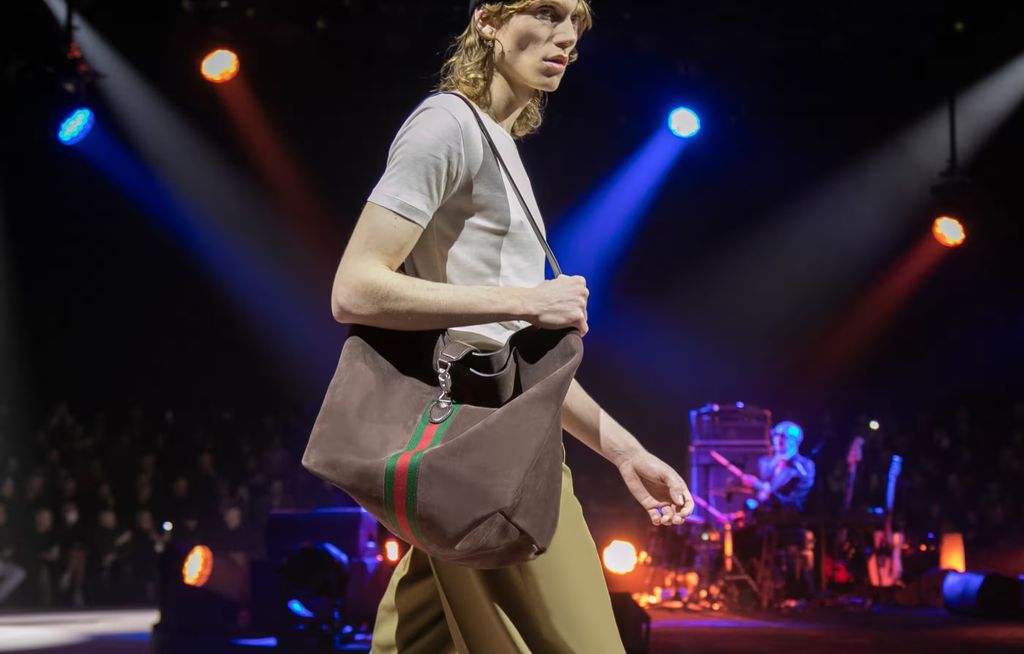 Tom Ford-era Piston Lock makes a return in Gucci's FW23 collection/ Foto: Gucci
Staples of years past are brought back and recontextualized in anticipation of a new era. Michele's boxy and glamorous cuts are still present, as well as piston locks which first debuted under Tom Ford's direction. Ford's brand of sensuality also makes a comeback, in revealing and slouchy cuts peppered across the diverse looks. Prominent signature features also include the Horsebit loafers and Gucci's Crystal GG monogram-distressed and awash in colorful hues this time around, respectively. The design team noticeably takes meticulous effort in digging and curating the house's archive, resulting in looks that take after distinctive periods in Gucci's history.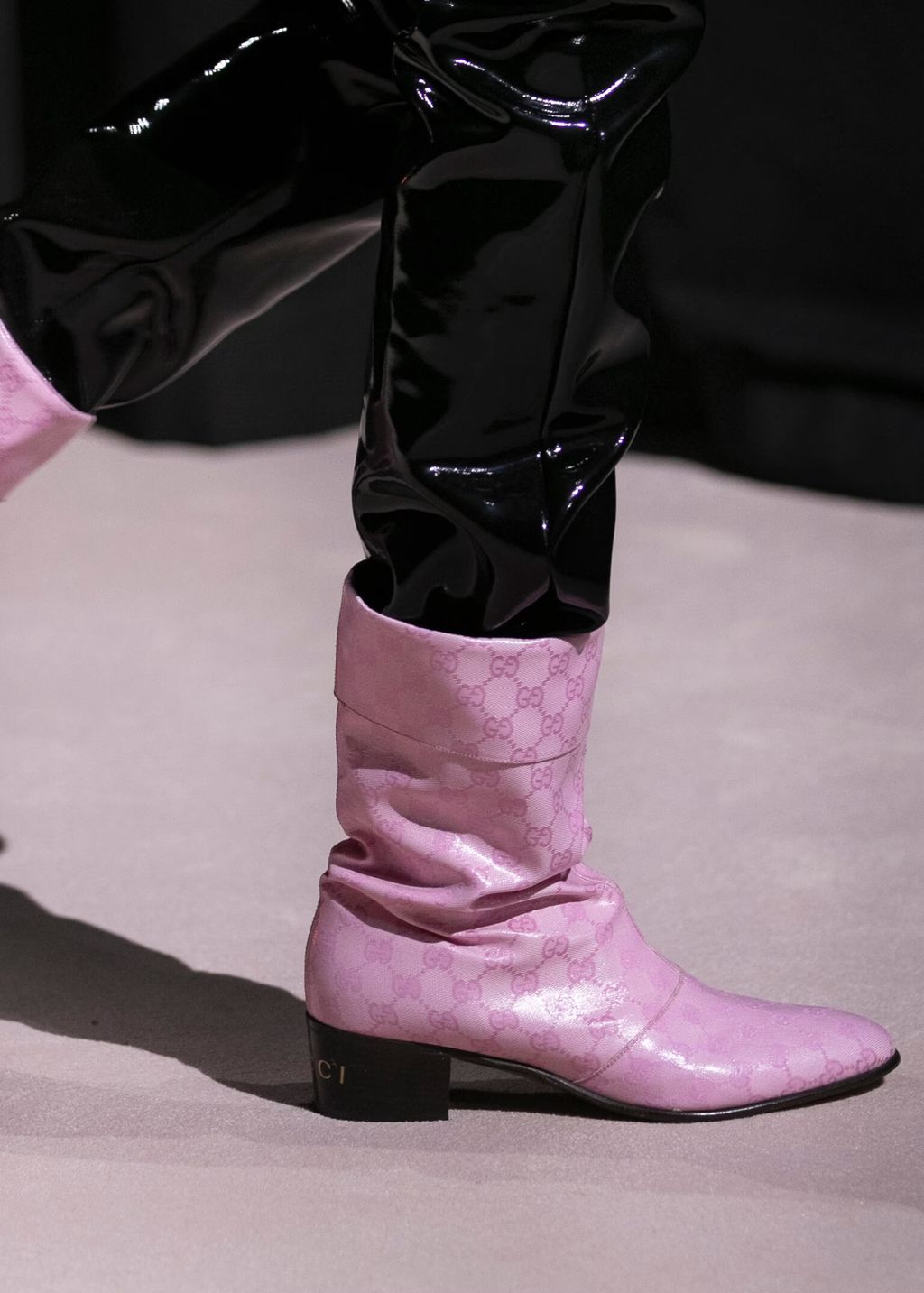 Pink Gucci boots with Crystal GG monogram/ Foto: Gucci
While lacking in overall distinct feel like Michele's work, the collection makes up for it in wearability and understated sense of luxury. Some notable pieces include a cropped puffy silver bomber jacket, floor-length jacket, sequined tops and trousers, as well as loose-fitting and sometimes-slitted bottoms. Silhouettes go from boxy and billowing to skin-tight, with color palettes that are muted to loud. It's a restrained look on decades of Gucci's greatest hits, made street-ready as we wonder; what parties, clubs, gigs or social settings can we wear the specific pieces to.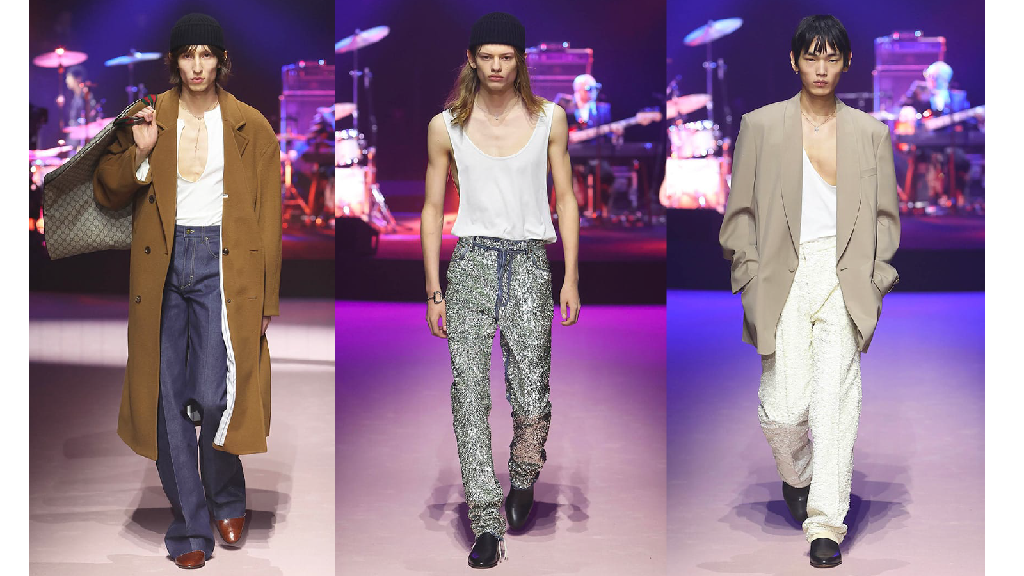 Sensual cuts and sequined pieces call back to Tom Ford era/ Foto: Gucci
While it may be a bit reductive to say that Gucci's Fall/Winter 2023 is a "transitory collection", it does very much feel like so. It remains to be seen if this collection is indeed the direction the house is going in, but the lack of cohesion and overarching theme leaves something to be desired—no matter how good the individual pieces are. That, or we've grown too used to Michele's fantastic worldbuilding. As it stands, however, this slight refresher before Gucci ushers in its new era still manages to excite.
(alm/DIR)