Jakarta
-
Everyone most likely grew up with Disney. Their everlasting effort in providing little children with a spark of happiness, hope, love, imagination and encouraging the pursuit of dreams, has been enumerated for 100 years. Certainly not a short period of time.
Celebrating their 100th anniversary, Disney teamed up with luxury French fashion house Givenchy to release two special capsule collections. The first one being released in July which centers on its cult-classic animation, 101 Dalmatians. Another collection will be launched at the end of the year as the fruition of their collaboration, which will feature Oswald the Rabbit, Disney's first character ever introduced and a precursor to Mickey Mouse. Oswald the Rabbit becomes the perfect choice to welcome the Year of the Rabbit, hence in line with the celebration of 2023 Lunar New Year.
It's such a wholesome move; 100th anniversary with the first character which resembles the animal of the year. Indeed, this collaboration will be special. As stated by Givenchy creative director Matthew M. Williams to Highsnobiety, "Oswald is an iconic character, a precursor in the Disney canon who is beloved for his spunk, feistiness, and loyalty. His personality is unique, and it not only speaks to me as a Disney fan, it also happens to fit perfectly with the spirit of Givenchy."
For the campaign, Disney and Givenchy invited Netflix's Riverdale star Madelaine Petsch, ex South Korean girl group f(x) member Amber Liu, and the first black model to have walked for Chanel, Alton Mason. Hence, what's inside the capsule?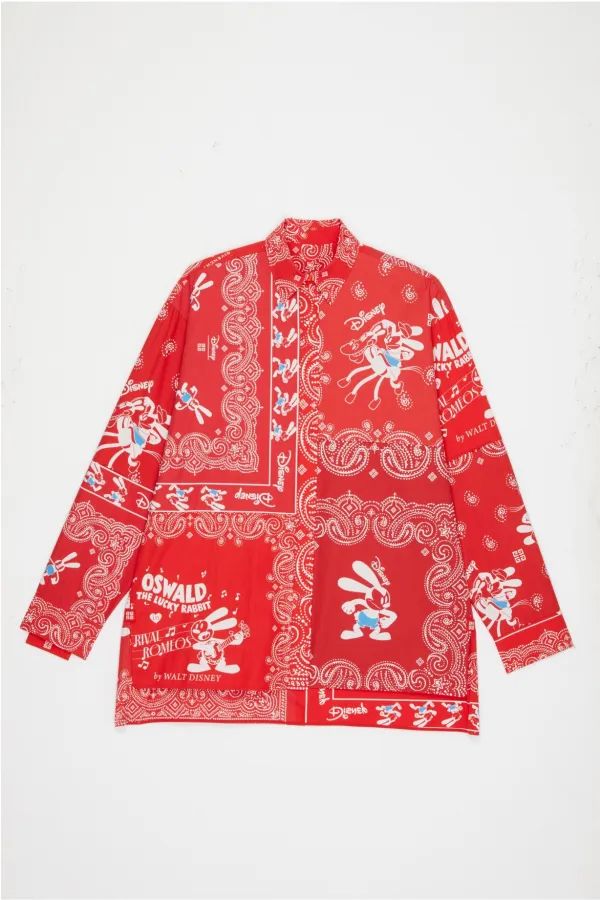 Givenchy x Disney Patterned Shirt/ Foto: Givenchy
Equally playful and luxurious, the capsule collection offers both men and women collectible statement pieces, ranging from varsity jackets, jeans jackets, to t-shirts, tanks, and button-down shirts.
For women, the capsule includes a blue varsity jacket with white sleeves with Givenchy and Paris lettering alongside Oswald the Lucky Rabbit offering a flower to his sweetheart, Ortensia. Multi-colored with graffiti-style bedazzled the denim jacket with Oswald and Ortensia plastered all over the fabrics along with a print of musical notes and simplified Eiffel tower. T-shirts in multiple color options are also available. While hoodies, tanks, and track pants, are embellished with the iconic Disney's kingdom print in white. On the other hand, the men's collection includes a red varsity jacket, blue button-down shirt, statement denims, t-shirt, and sweatshirts in similar designs.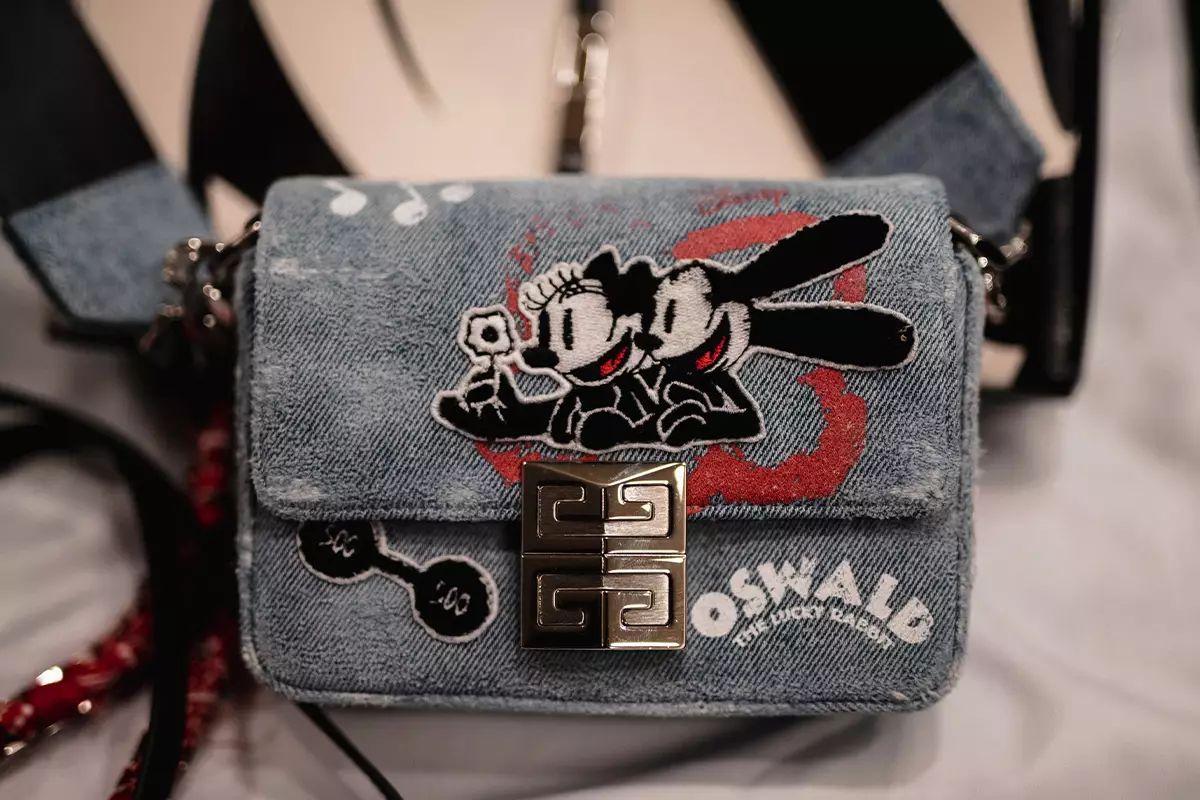 Givenchy x Disney Denim Purse/ Foto: Derek X. Lee (Courtesy of Disney)
Rounding out the capsule with day-to-day accessories are Disney x Givenchy tennis shoes, totes, and small crossbody denim bags, as well as card carriers, phone cases, earbud cases, and caps.
Globally, the collection can be purchased starting on December 30th on givenchy.com. If you're a die-hard Disney fan, go get it!
(HAI/tim)