Jakarta
-
While music festivals and concerts show no signs of slowing down anytime soon, the return of smaller gigs is something that needs to be celebrated in itself. With smaller boundaries between performers and audience, these gigs provide a more intimate setting for them to interact with. On Thursday, February 23rd, Recollecting brought the experience again.
After seven years, Sajama Cut held Recollecting again—a series of small gigs in which they invite their contemporaries to play—in collaboration with Institut Français d'Indonésie Jakarta's monthly concert, Supersonik. Previous iterations of Recollecting were held in the long-missed Sunset Limited Kemang. Taking place in IFI Thamrin's auditorium this time around, the event is also supported by Deathrockstar, SRM Bands, Pop Hari Ini, and Jakarta Akhir Pekan. "Recollecting is something that we wanted to make again since long, and we feel that the timing is just right. Plus, the bands we like are also able to perform. We wanted to try out if IFI's ambience suits Recollecting's concept. Also, we just miss the Cult!" stated Marcel Thee from Sajama Cut, referring to their fanbase.
As the name suggests, the event very much feels like a recollection of memories from yesteryears. Along with Sajama Cut, dream pop unit Seaside and indie rockers Holy City Rollers also performed in the concert. This is a deliberate choice on Sajama Cut's part, because in addition to being fond of their music, both Seaside and Holy City Rollers have not performed live as actively as they used to. "Aside from being the host [for Recollecting], we also want to position ourselves as fans—so the performers are always bands or musicians that we personally like," Thee said.
Building upon the ambience of previous Recollecting events, the auditorium venue seems like an apt choice for its return. "IFI's sound is top notch, even though it's a different kind of 'intimate' compared to Recollecting's past iterations," said Thee of the venue. Audiences are seated in a theatre-like arrangement, giving the a more grand feel.
The first band to take the stage is Holy City Rollers, which played songs from their 2007 album First Chapter of Allordia and the 2021 EP Evolve. Holy City Rollers is certainly not a young band, but the excitement they brought through their performance gives off a nostalgic energy as one might find in their earlier days. With faces both old and new in theirlineup, they managed to bring their mix of garage influences andindie rock sound into the stage. New songs like "Through the Stream" and old ones like "Hook Up" or "Kingdom ofAllordia" showcased their prowess.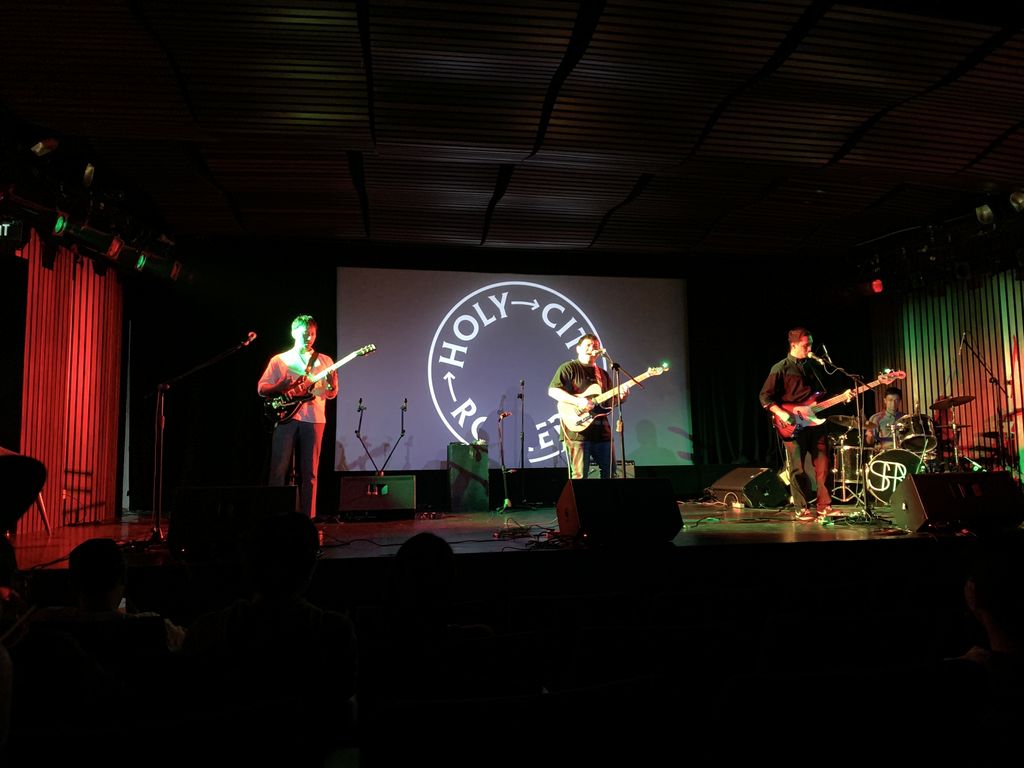 Holy City Rollers performing at
Recollecting
/ Foto: CXO Media/Almer Mikhail
Next up is Seaside, who brought a dreamy, atmospheric feel to the auditorium. Shoegaze influences color their brand of indie/dream pop, with echoing vocals, layered instrumentations, and ethereal distortions. After playing songs from their 2013 album Undone, Seaside also played new materials as the closer of their set, which are yet to be titled.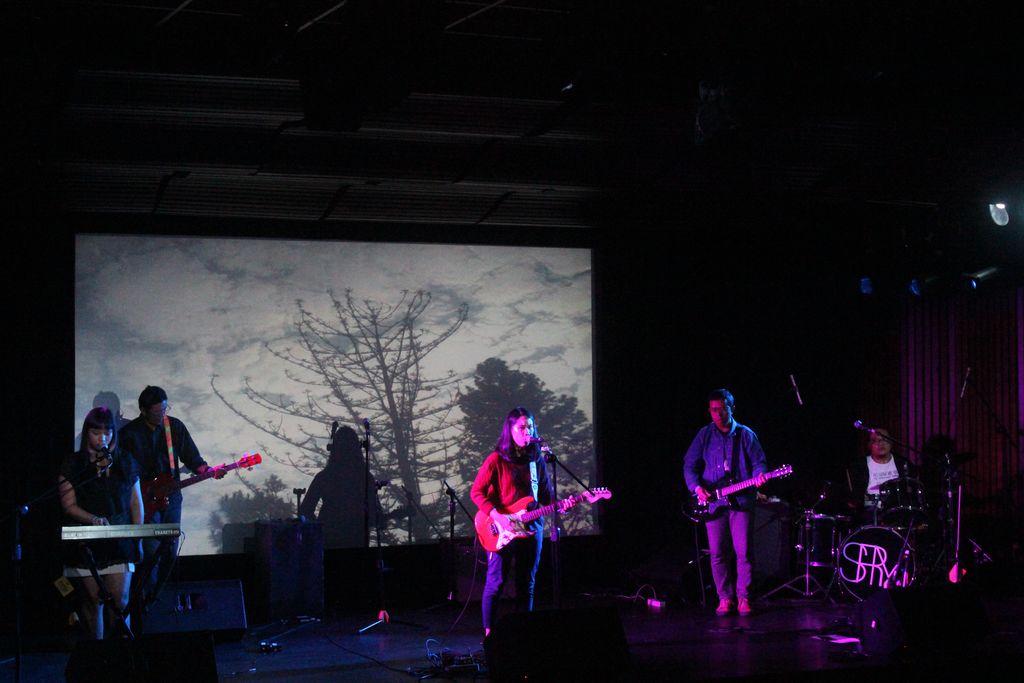 Atmospheric performance from Seaside/ Foto: Dirga Abdillah (Jakarta Akhir Pekan)
Shortly after a brief interval, the main performer of the night takes the stage with a little surprise; Sajama Cut's frontman Marcel Thee came limping with the help of a walking stick. After apologizing about how "uncool and so not indie rock" it is for him, he joked that his foot injury might be a curse sent by other bands or record labels. "Hip-hop has blatant rivalries between artists, I think it's time for indie rock bands to also have beef with each other," he jested. Afterwards, the band started off with a number from 2011's Manimal, "Hunted Lights", with Thee sitting down.
Seemingly not content with this, Thee stood for his next performance, "Kesadaran/ Pemberian Dana/ Gempa Bumi/ Panasea", a cut from 2020's Godsigma. WhileSajamaCut's music always possesses a cinematic quality to them, in front of a projection ofglitched-out traffic, cut-outanime scenes, and other visuals amidst the auditorium setting, this feels evenmoreso.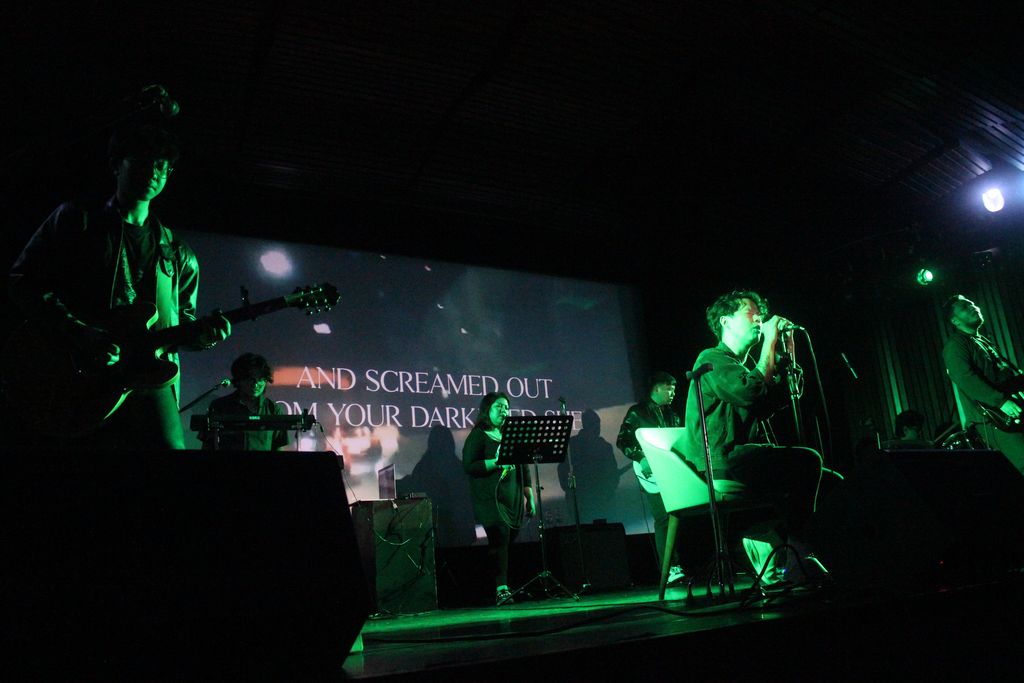 Sajama Cut performing "Less Afraid"/ Foto: Dirga Abdillah (Jakarta Akhir Pekan)
While most of the band's live performances today consist of numbers from Godsigma, Sajama Cut also played songs from their earlier releases. A notable example is "Fatamorgana" from 2015's Hobgoblin, which he stated as being his personal favorite Sajama Cut album. In between songs, he shouted out everyone involved in the showcase, joked with audience members, and even let guitarist Aldrian Risjad play a chorus from his solo project—an adlib for which Risjad would need to pay IDR100 million for to Sajama Cut, they jested. Like Seaside before them, Sajama Cut also played a new song, in which Thee sang the unfinished version of the lyrics. After playing "Fallen Japanese" and "Less Afraid" from 2005's The Osaka Journals, Sajama Cut closed their set with the bizarrely romantic "Adegan Ranjang 1981 ♥︎ 1982".
Following the showcase, we managed to catch up a bit with the frontman (before hitching a ride in his car due to the unending rain-but that's another story) on what's next for the band. While currently working on new materials, the next iteration of Recollecting is another thing on their agenda. "Perhaps it would be a more conventional gig next time," stated Thee. As audience members started to line up the merchandise table and asking the band to sign their setlists, it seems that the Cult is satiated for now.
(tim)