Jakarta
-
It's been almost six months since Warner Bros dropped a teaser photo of the Margot Robbie-led Barbie live-action where she's dressed in a striped blue halter top and a polka dot blue headband, sitting in a popping pink 1965 Chevrolet Corvette looking all smiley. Not only Margot Robbie, but Ryan Gosling is set to play Barbie's love interest, Ken! The actor flashes his platinum locks and his six pack in a full denim fit, with his white briefs peeking through that has "Ken" written on it, as he poses in front of a pink background resembling a Barbie house. Just two of these teasers alone have gotten us all super excited!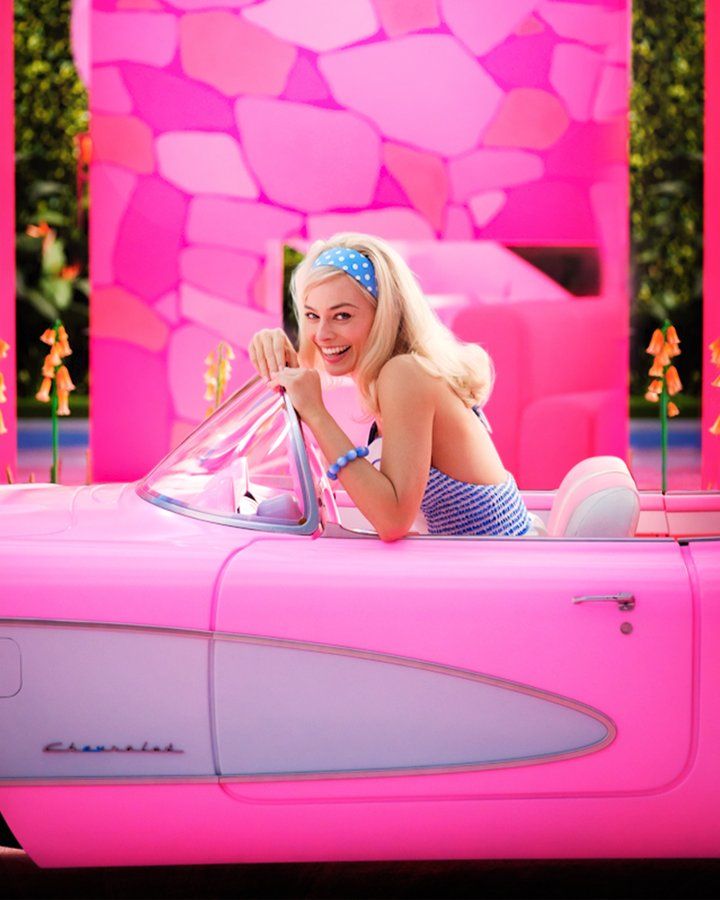 Margot Robbie as Barbie/ Foto: Warner Bros
Now, Warner Bros finally released the first few glimpses of the movie with a one minute length teaser trailer. The teaser is opened with a voiceover, explaining how children were always playing with baby dolls until Barbie came to light. The children then start destroying the baby dolls and grow interested in Barbie aka Margot Robbie who's dressed in a black and white swimsuit with matching sunglasses, winking to the camera.
Then, the trailer unravels the dreamy Barbie world with Barbie dream houses on sight, Ryan Gosling with Ncuti Gatwa and Kingsley Ben-Adir, Simu Liu dancing in sync with people who dressed in the same suit, Issa Rae showing up in all pink with a matching sash that has "President" slapped all over it, then it is closed with Margot Robbie in a full glam Barbie look.
Behind the trailer, there's actually some easter eggs hidden in the details that you might not notice. Firstly, the first few scenes are a homage to Stanley Kubrick's film, 2001: A Space Odyssey. The set shows a desolate landscape, the children who went mad when destroying the baby dolls, even Margot Robbie's silhouette   if you put the scene side by side, you'll notice the uncanny resemblance! Even Margot Robbie in the vintage stripes swimsuit is also a nod to the first Barbie doll ever released by Mattel in 1959.
Along with the cast that has been shown in the trailer, Will Ferrel, Emma Mackey, Kate McKinnon, America Ferrera, Scott Evans, and Michael Cera will follow the rest of the cast to play in the fantastic Barbie world. According to Movie Insider, Will Ferrel is set to make an appearance as a CEO of a toy company that may or not be Mattel.
With Simu Liu's appearance as   what it seems like   another Ken, it may indicate that there will also be another Barbie. While details about the plots and the characters are few, Barbie live-action will tell the story about a doll who is forced to leave the picture-perfect Barbieland due to her own "imperfections". The official synopsis reads, "After being expelled from Barbieland for being a less than perfect-looking doll, Barbie sets off for the human world to find true happiness."
Barbie live-action is directed by Greta Gerwig who directed Oscar-nominated movies like Lady Bird and Little Women. Over the years, the Barbie doll has received criticism for her unrealistic body proportions, hence it will be exciting to see Greta Gerwig's takes on the matter. Either Margot Robbie and Ryan Gosling have been explaining that the movie isn't going to be what we think it is. It's going to have its own twist, they say. Well, let's wait and see 'til July 2023!
(HAI/alm)