Jakarta
-
After the success producing worth-to-watch thrillers, Get Out and Us, Jordan Peele continues to strike the theatre with his newly written-by, directed-by, and co-produced by film, Nope. We're here to talk everything about it, and it's not going to be spoiler-free so read at your own risk.
Nope invites a familiar face to star in the film, none other than the main cast of Get Out, Daniel Kaluuya himself serving the role of OJ Haywood, a ranch owner who trains and handles horses for film productions along with his sister, Em (Keke Palmer). However, one incident on set made a horse reacts violently, resulting in the dismissal of the Haywood siblings from the project. Then, the ranch's financial woes forced OJ to sell horses to Jupe (Steven Yeun), a child actor who previously survived a chimpanzee actor attack. Em encourages OJ to accept Jupe's offer but they soon discover an unidentified flying object (UFO) after having their electricity fluctuating and their horses vanishing and violently reacting to an unknown location.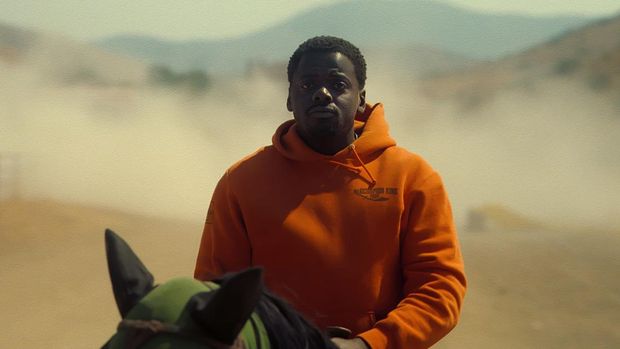 Daniel Kaluuya/ Foto: IMDb
Seeking wealth and fame, the siblings decide to document evidence of its existence and recruit Fry's Electronics employee, Angel (Brandon Perea), to set up surveillance cameras as they bait it with a fake horse. It worked but it didn't, they witness that this gigantic flying saucer can suck everything on land, but sadly the act was not caught on camera. However, Angel notices a nearby cloud that never moves and they finally deduce that it was in fact the UFO's hiding place. Therefore, the rest of the movie showcases the Haywoods' effort in trying to 'capture' this flying object without getting sucked in.
The scoring was beautifully dreadful, just imagine an angry UFO saucer creatures roaming around the sky and going their way to consume horses and humans slowly and painfully inside its digestive system, with their helpless screams echoing for hours, the sound of pain in suffocation and deadly burns.
The film develops a frightening touch of sci-fi and horror once new pieces of information are revealed, yet, it also loses the edges of its sense of imagination. Perhaps, that was the reason why I didn't feel fully pleased, I was expecting more insane scenes, more than the outraged human-eating ape.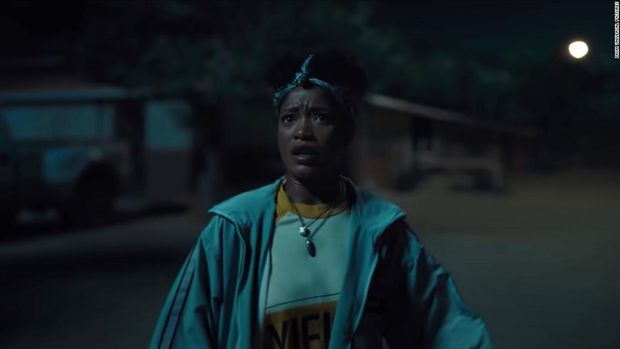 Keke Palmer/ Foto: IMDb
The classic sci-fi movies would showcase aliens in an unnatural form. The images of fake aliens who were fooling OJ at night were something I can never shake off my head, it was truly spooky that deep down I wished it was the real thing. Yet, I appreciate how Jordan Peele is able to reinvent the horror of sci-fi through just one creature roaming around from one cloud to another in their never-ending hunt adventure.
What makes this movie special is the subtle details about how OJ is able to see right through them, treating it like he's communicating with animals on land    in his case, the horses. His stoic but rather smart and analytical nature is what makes him shine despite mouthing a few lines. Keke Palmer, on the other hand, is like a fresh breath of air    she was remarkable in delivering her role.
Subtly dividing the act by inserting several title cards showing animal characters of the movie until it finally culminates with Nope as the ending title was also something witty. Less metaphorical than Us or Get Out, but Nope is still clouded with the same spine-chilling atmosphere. Even though I flew my expectations way too high, Nope is still as enjoyable as Jordan Peele's previous titles    once again strengthening his denomination as a notable auteur.
(HAI/iyas)